UC Riverside and climate start-up Pluton Biosciences have partnered to advance the development of technology that increases a plant's capability to capture CO2 and sequester it in the soil. 
Commercialization of the technology has the potential to create more sustainable agricultural practices and increase crop yields as an additional outcome of enhanced carbon capture, said Paul Larsen, a professor of biochemistry who developed the technology.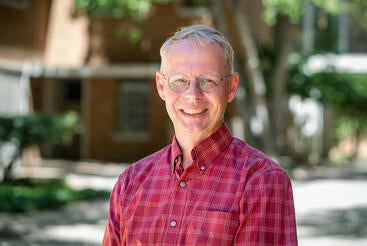 "I think we've discovered something that could make a difference when it comes to climate change and feeding the world," he said.
The work is being funded by the Grantham Foundation for the Protection of the Environment. 
In July 2022, Pluton, based in St. Louis, Missouri, entered into an exclusive option agreement with UCR's Office of Technology Partnerships to work with Larsen and to eventually obtain a commercial license. 
Complementary to the option agreement, a $1.5 million grant from Grantham to UCR will fund research and translation work. Grantham will also fund Pluton to collaborate with Larsen in transferring the technology to food and feed crops and to conduct field-based research in those crops. The proof-of-concept laboratory work and field trials are expected to take up to three years and if successful, Grantham and Pluton will commercialize the technology with agricultural seed companies directly, or through a new startup company.
"At UCR we are focused on developing the technologies that will help us build a sustainable future," said Rosibel Ochoa, associate vice chancellor for technology partnerships. "This technology is an example of the breakthrough science that we are bringing to the market." 
Barry Goldman, Pluton's chief science officer, said Pluton is excited to work with Larsen and UCR and be supported by Grantham.
"This project aligns closely with Pluton's mission to drive agriculture carbon-negative, and has the potential for significant positive impact for our planet," he said.
In his research, Larsen has been able to grow robust Arabidopsis, a plant commonly used as a model plant in research, that showed substantial increases in carbon outputs relevant to carbon capture and resistance to aluminum toxicity.
"Testing these findings in commercial crops takes the technology to the next level in determining whether it can be applied broadly on millions of acres worldwide," Larsen said.
Larsen credits his participation in the UCR Office of Technology Partnership's UCR EPIC Innovation and Entrepreneurial programs with helping him explore the potential of the technology, providing funding, training, mentoring from industry experts, and making connections that led to the current partnerships with Grantham and Pluton. 
The INNOVAR training, a UCR EPIC offering, provides entrepreneurial education to inventors seeking to market their technology. As part of the training, Larsen was able to translate the science into a narrative that made sense to a business audience. From IP protection, to training, mentoring and proof-of-concept funding, the UCR Office of Technology Partnerships has supported Larsen since 2017 to help bring his technology to the market.