A newly renovated restroom at UC Riverside's Spieth Hall is part of a pilot project to add more gender inclusive facilities on campus.
The project represents a major step towards increased accessibility for members of the transgender, gender-nonconforming, and LGBT community on campus who have advocated for more gender inclusive restrooms in convenient and accessible locations. The say it also helps parents accompanying small children and people with disabilities accompanied by caretakers to access more inclusive restrooms.
UCR has included them in new buildings constructed in the last few years such as the Student Success Center. Some older buildings have single-occupancy bathrooms that are available as gender inclusive but many buildings only have men's and women's restrooms, said Nancy Tubbs, director of the LGBT Resource Center on campus.
"There are huge parts of our campus where you cannot find any gender inclusive restrooms," she said. "The most important thing about the pilot project is it increases access to gender inclusive restrooms on our campus and it's in a place where there aren't many."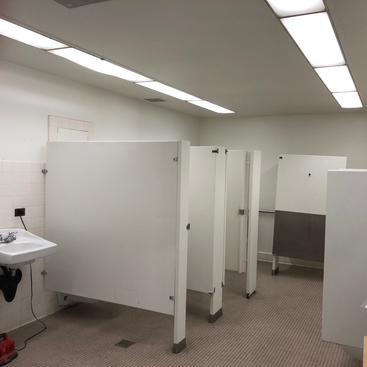 The Spieth Hall renovation began in February and was completed in mid-April. It converted an existing ground floor men's bathroom, which opens to the outer courtyard next to the Life Sciences Building, into a gender inclusive restroom. Built in 1958, it had old plumbing, tile, and other fixtures that were completely replaced, said Dan Lerman, project manager for Facilities Services.
The retrofitted restroom has three enclosed stalls with new toilets and floor-to-ceiling partitions. New lights and exhaust vents were also added and the walls were repainted. The older urinals were removed and new mirrors over the sink installed.
Due to the age of the building, any renovations must conform to current building standards including the Americans the Disabilities Act, Lerman said. As a result, the new stalls are wider than the previous ones. One of them, designed specifically for accessibility, is twice the size of the older ones. 
The campus began looking into the pilot project after the Chancellor's Advisory Committee on LGBT Students, Faculty, and Staff raised their concerns with campus leadership who agreed to come up with solutions. The process accelerated when the UCR Queer Student Leadership Council presented a letter last year to administration urging change to meet the needs of students.
The campus has 58 gender inclusive restrooms although most of those are single-occupancy ones. UCR has also required that gender-inclusive restrooms be a standard feature of all new buildings. In addition to the Student Success Center, the North District and Dundee residence halls and Glasgow Dining Hall have gender inclusive restrooms.
"Attentiveness to detail in our built environments is one of the ways we can develop a more inclusive experience for our entire community," Chancellor Kim A. Wilcox said. "I'm grateful to all those working to align our architecture and beliefs and serve as a model for others."
A subcommittee worked with Facilities Services and the Office of Planning, Design and Construction to look at potential locations to convert older facilities to gender inclusive and decided on Spieth as a test case. 
Adam Schnirel, associate vice chancellor for Facilities Services, called the project a great improvement for the campus.
"I'm proud that Facilities Services is helping lead the way to convert the first multi-stall gender inclusive restroom on campus," he said. "We are here to continue to improve the built environment for all students, faculty, staff, and visitors. We look forward to the restroom improvement and I'm sure the campus will be pleased with the result."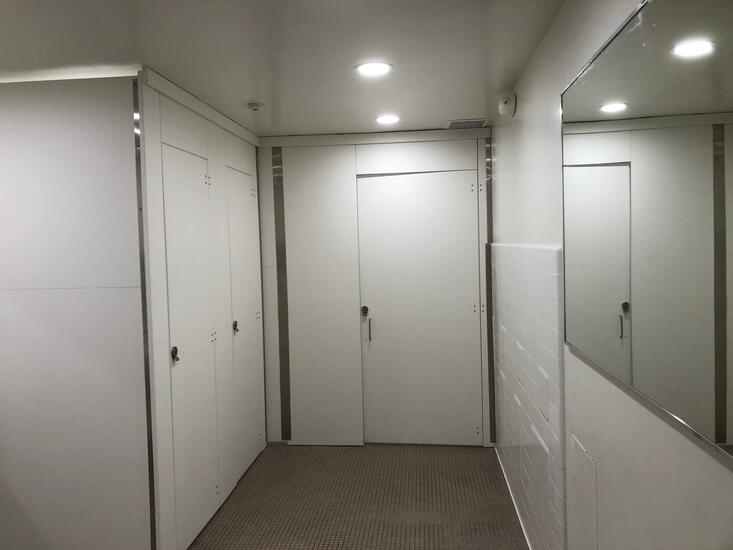 Tubbs described the need for accessible restrooms as an issue of health, safety, and equality.
Some transgender and gender-nonconforming members of the campus community often feel uncomfortable using gendered restrooms, or are challenged by others when they do, Tubbs said. As a result, they will often hold off from using a restroom for long uncomfortable periods of time until they're closer to a facility they feel safer using, she said.
The Queer Student Leadership Council letter to campus leadership included testimonials from students on their experiences.
"As someone who doesn't fit in the gender binary, choosing what bathroom to use is always a cause of anxiety," said Nik Herzog, a biology major.
Kseniia Stiagun, a mechanical engineer major, said as a non-binary person they shouldn't have to walk across campus to find a restroom.
"Incorporating more gender inclusive restrooms on campus would mean that a wide range of students would be able to comfortably use them and wouldn't have to walk far or wait at the single-stall gender-neutral bathroom for their turn," Stiagun said.
Tubbs said she hopes the project will lead to more older restrooms being converted to gender inclusive restrooms.
Ivan Eusebio Aguirre Darancou,  an assistant professor of Hispanic Studies and member of the Chancellor's Advisory Committee on LGBT Students, Faculty, & Staff, said gender inclusive restrooms are about more than having a place to go to the bathroom.
"They are spaces where our existence becomes seen, appreciated and valued for what we are and where we can take care of each other," he said. "We exist across campus -- students, faculty, staff,  and visitors -- and we all deserve to be able to use our bodies without feeling unsafe or unwelcome."