The UC Riverside Botanic Gardens has seen an outpouring of support following break-ins that resulted in the loss of thousands of dollars in equipment.
Supporters have asked how they can donate money and equipment, and volunteer to help, after Botanic Gardens Director Jodie Holt posted on social media about burglaries that occurred Friday evening, July 7, and Saturday morning, July 8. Two off-road vehicles, and several power and hand tools were stolen from a secured garage, believed to be done by the same perpetrators. 
Holt said the theft was devastating but she's heartened by the reaction from supporters.
"I'm just overwhelmed," Holt said. "It's so discouraging this happened, but the response is so overwhelming it makes me feel that everybody that visits the gardens, that is on social media responding, they feel personally affronted. They feel it's their garden."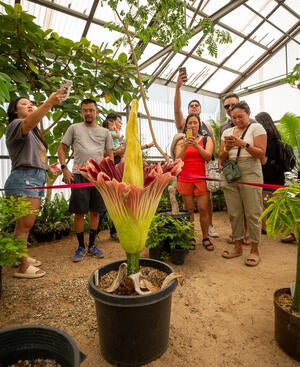 One of the stolen vehicles was a new off-road utility vehicle donated by the Toro Company and the other was a 16-year-old Honda off-road vehicle. Both were used to haul equipment and supplies across the trails, hills, and fire roads on the 40-acre property, particularly areas that are hard to reach on foot. Staff members used the Honda vehicle to do a sweep of the gardens at closing time to make sure everyone had left.
Although the gardens still has some hand and power tools as a back-up, the loss of the vehicles and power tools means more work and time is needed to maintain the gardens, Holt said. Repairs and cleanup will also take time away from gardens tasks. 
Like most other gardens, the UCR Botanic Gardens is largely self-funded. The College of Natural and Agricultural Sciences provides salary support for some staff, while the majority of staff and the operating budget are raised through donations, Friends of the Botanic Gardens membership, and earned revenue from rentals, tours, photo shoots, and other activities. Holt said that funding model is typical of public gardens and the UCR funding percentage is higher than at some other similar gardens. 
UCR's insurance will cover much of the loss, but the gardens expects to invest additional funding to complete repairs and enhance security. Supporters who wish to help can give to the Botanic Gardens general fund at its giving page, Holt said. While the Botanic Gardens has many funds, most are designated for specific projects. The general fund allows the most flexibility in being able to replace the stolen equipment and tools and continue to improve safety and security in the gardens. 
While the gardens has had plants stolen and been vandalized before, these break-ins were the worst they've experienced, Holt said.
Security measures were in place and the UCR police department is investigating. Lt. James Wright called it a high priority for the department.
"The gardens are very near and dear to us," Wright said. "Just like any other property on campus we take it very seriously."
Anyone with information can contact the police department at 951-827-5222. More information on how to support the Botanic Gardens is available at gardens.ucr.edu/giving or by contacting ucrbg@ucr.edu.