When Jasmine Veliz's workday at UC Riverside ends on a Tuesday afternoon, she's just getting started.
An administrative assistant with University Extension, Veliz volunteers once a week at Riverside's Raincross Boxing Academy, tutoring and mentoring local youth. She's been a tutor with the organization for two years, starting when she was a UCR undergraduate student. In June, UCR Staff Assembly gave her the People Helping People Award, recognizing staff members who exemplify community service.
The nonprofit, co-founded by a UCR alumna, is staffed primarily by about 40 UCR students and alumni who mentor students ages 7 to 17. 
Located in Riverside's Eastside community, the organization's mission is to provide a safe space for at-risk youth.
Veliz, who graduated with a bachelor's degree in psychology and minored in education, applied for an internship after learning about the program. She said the nonprofit's mission aligns with her educational interests and desire to serve her community.
"I was born and raised in Riverside," Veliz said. "It feels great to be helping the next generation."
On a recent afternoon, Veliz greeted nine-year-old Samantha Fuentes and prepared multiplication tables for her to practice in a classroom area of the boxing academy. She checked on what books other students were reading, offering them suggestions.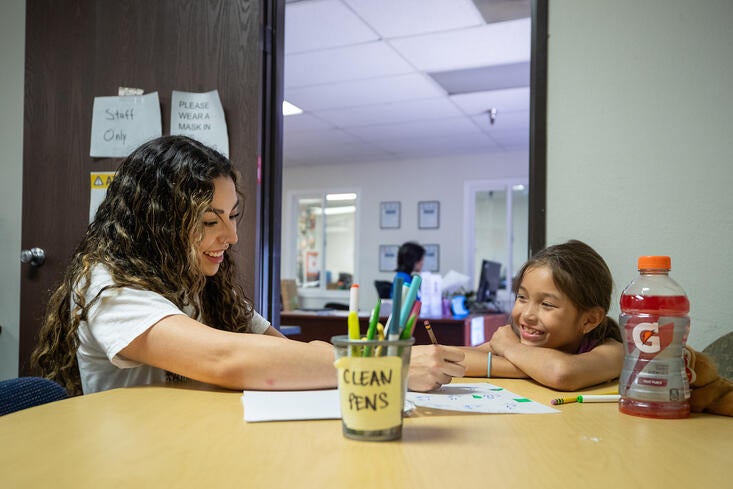 The students usually arrive at Raincross around 4:30 p.m. They're assigned an hour of school work, often reading or math. Tutors like Veliz also assist with homework.
After completing their school work, participants can make use of an exercise room. Those interested in boxing can hit the punching bags or spar in the gym.
The students also receive mentoring and counseling with volunteers, most of whom are in their early 20s, who sit down with them to check on how they're doing at home and school.
"They feel like they can relate to us," Veliz said. "We're here to support them."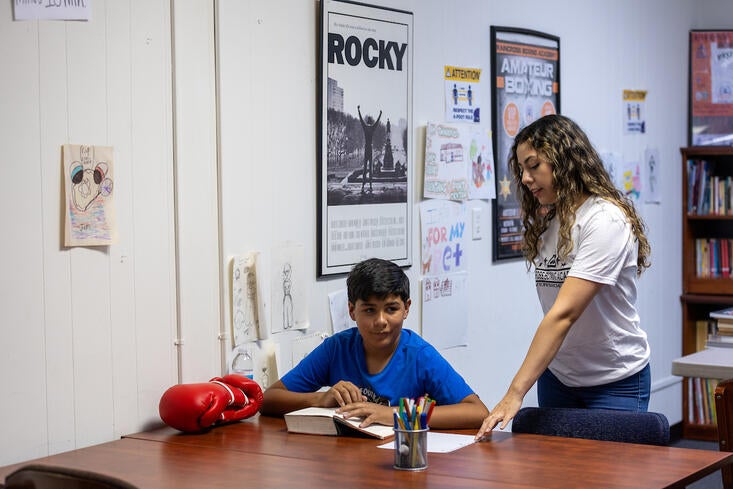 Veliz, who has an interest in instructional design, will soon be transitioning to creating instructional materials at Raincross for other tutors. Her long-term goal is to start a nonprofit that focuses on art, encouraging kids to paint or draw.
Veliz has been admitted to an online graduate program at Cal State Fullerton, starting in August, pursuing a master's degree in instructional design and technology. She plans to continue working at UCR and volunteering at Raincross while studying online.
"I just couldn't see myself leaving Raincross," she said. "I like it here. It feels like my second family. I like helping the kids."