The UC Riverside campus has all sorts of trees, from mature oaks that date to the 1950s to rare varieties such as a single monkey puzzle tree near Olmsted Hall.
But until recently there were no precise records of the number of trees, their location, the type of species, and their condition. A partial inventory was started in 2014 but never completed. 
Earlier this year, Facilities Services began a tree mapping and inventory project that puts all that data into a digital database. For instance, the landscape team now knows the campus has 8,211 trees and about 200 different species. The inventory covers the main campus including student residential areas and parking lots. It doesn't include the UCR Botanic Gardens and Agricultural Operations, which manage their respective areas.
"For us, it's a keystone event for the urban forest management plan at UCR," said Mark Jones, landscape services manager with Facilities Services. "This tool is revolutionary because it allows us to be proactive in the management of it."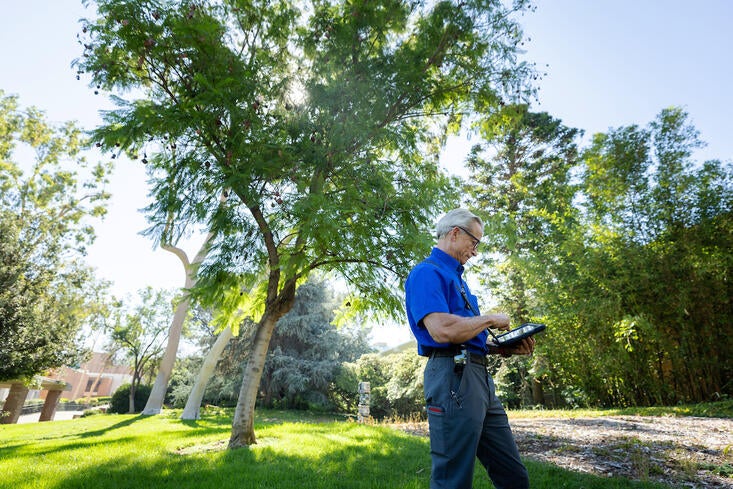 A vendor was hired to conduct the inventory, which involved two arborists walking the campus, visually inspecting its trees, and adding the data to a software program. The information input includes the tree location, health, and a risk assessment.
With the tree inventory, the landscape crew can identify trees that may be a safety hazard due to falling branches and make sure they're trimmed as needed. They've created a plan to trim every tree on campus on a regular cycle, said Tos Ishida, assistant director of landscape services.
They can also see which areas of the campus may need to have trees replanted as old ones die or help create more canopy and shade as temperatures increase due to climate change.
The project was a priority for Adam Schnirel, associate vice chancellor for Facilities Services.
"Our landscape team does a fantastic job of keeping the campus looking great on a daily basis," he said. "As we have many different types of trees in various conditions, we wanted to ensure that we had a baseline and overall condition assessment for campus. This will help us with managing our trees over the long term."
The project took two months to complete although the landscape services crew is still in the process of double-checking the data. Ishida expects it to be continually updated.
"They gave us the basics and then we can add on it," Ishida said.
With a tablet in hand, landscape services employees can use GPS mapping to see each tree represented with a dot and click on each tree to see its health, species, and location.
Initially, Facilities Services is sharing the database with only with Planning, Design, and Construction, which works closely with the department on campus construction, including the planting of new trees and vegetation.
But once all the data is verified, the department hopes to offer a public portal that will allow anyone to explore the different varieties of trees on campus using their phones. 
Jones said there's much to discover as UCR has many unique trees that are not normally found in the region.
A Bunya-Bunya tree, also known as a monkey puzzle due to its odd-shaped leaves, is located next to Olmsted Hall. The only one of its kind on campus, the species is typically found in South Pacific countries such as Australia, Jones said. UCR also has a handful of Kauri Pines, also from the South Pacific, known for growing tall and strong and as such used as ships masts in the 1880s.
The lawn in front of Tomás Rivera Library is referred to as an elm forest due to its large concentration of Chinese elm trees while the mall outside Chapman Hall is home to the oldest and largest Italian Stone Pine on campus, Jones said.
"We're kind of blessed and fortunate to have these unique trees here," Jones said.