U.S. Under Secretary of Education James Kvaal spoke about the importance of educational opportunity in meetings with UC Riverside administrators and students during a campus visit on Thursday, Sept. 7.
Kvaal, who leads the Department of Education's work on higher education and student financial aid, also met with journalists from around the country later that afternoon in a panel discussion at the Alumni and Visitors Center.
In his meeting with six students at the UCR Career Center, Kvaal said the Biden Administration's two top priorities for higher education are addressing student debt and increasing inclusivity and upward mobility.
"UCR is well known as one of the best, if not the best, at promoting upward mobility, creating opportunities for people," he said. 
In an hour-long roundtable discussion, Kvaal asked the students why they chose UCR and what their college experience has been like. 
The students spoke about the sense of community at UCR, mentorship from faculty members, financial aid, and the opportunity to do research as some of the factors that attracted them to the campus.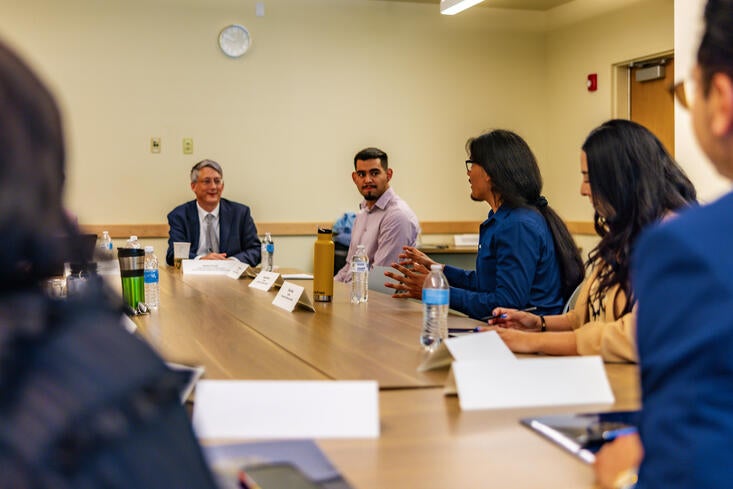 Grace Tirado, a fourth-year bioengineering student who grew up in Riverside, said she always knew she would go to a UC campus but after weighing admissions offers from other campuses, including UC Berkeley, she chose UCR due to the increased financial aid available to her.
"Being here, choosing UCR, was probably one of the best decisions I made," she said. "What I've noticed is the competitive atmosphere wasn't there. It's much more community oriented."
Marcos Reyes, a fourth-year neuroscience student who grew up in the Coachella Valley, said as a first-generation student he felt welcomed by other students, who offered him advice when he visited the campus. He said one of his professors has served as an important mentor in his goal of going to medical school.
"I don't have that guidance at home so I want to be in an environment where students and faculty can provide that to me," Reyes said.
Russ Garcia, a business management student who returned to school in his 40s after retiring as a Marine, and Jessica McPherson, a linguistics and classics major who served in the Army, said the Veterans Resource Center has been vital for them in finding a sense of belonging on campus.
"Having someone who understands where you're coming from and what your needs are is really important," McPherson said.
Kvaal said he was impressed by the students, saying they made insightful points.
"This is what we want to see in higher education, people from all backgrounds given a chance to succeed and go on to a better life."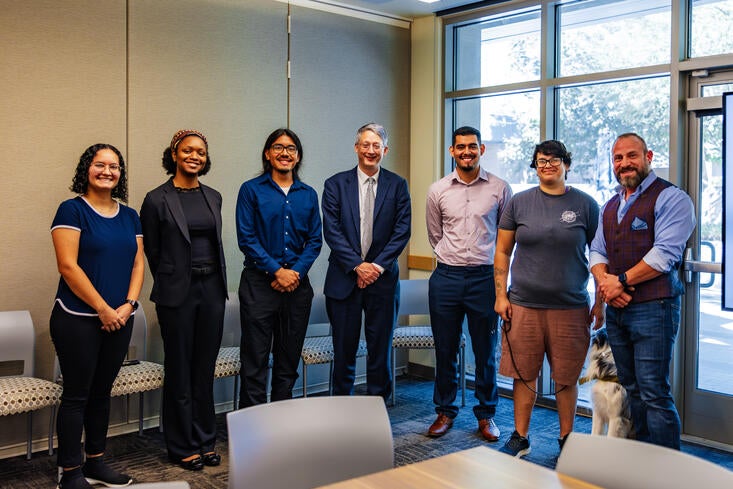 Later in the afternoon, Kvaal took part in a question-and-answer panel session at the Education Writers Association Higher Education Seminar, which met on campus for a two-day conference. He addressed how the Biden Administration is tackling affirmative action and student debt following recent U.S. Supreme Court decisions on both issues.
He said the administration will continue to do all it can to promote diversity and reduce the debt burden on students.
Speaking about student success and upward mobility, Kvaal referenced his earlier meeting with the UCR students. He said it is important for students to find others on campus who share their experiences, a sentiment he has heard from students across the country.
"The common denominator, the single most important thing I hear, is the campus culture," he said. "Do people believe that this institution's most important goal is helping people from different backgrounds succeed?"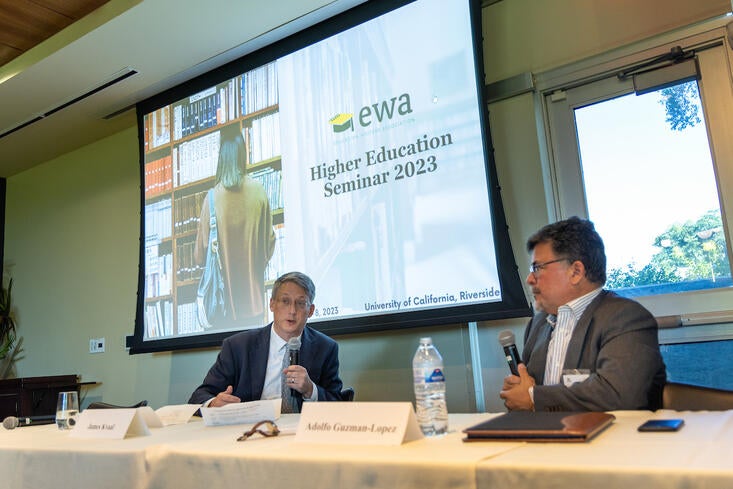 Kvaal said higher education remains an essential institution for the country to solve issues like stagnant living standards, poverty, and other inequities.
"It is fundamentally very, very important to our country when we have many more people graduating," he said.