UC Riverside is taking its approach to health and wellness to a new level with the opening of the Student Health and Counseling Center later this month.
The 39,450-square-foot, two-story building at the north side of campus brings together medical, mental health, and wellbeing services into one location and modern facility for the first time. A ribbon-cutting ceremony will be held Sept. 22 to mark the completion of construction, which began in Feb. 2022.
"The new building is really exciting for us because we're thinking of this as a holistic healing space, really a place where students can come together and get information about how they can be healthy, live a healthy lifestyle, have mental wellness and wellbeing, and contribute to students' success while on campus," said Denise Woods, associate vice chancellor of Health, Well-being and Safety.
A variety of services involving all aspects of student wellness are being integrated into one seamless space, allowing for increased collaboration and easier access for students, she said.
Student Health Services, which provides medical services to students, and Counseling and Psychological Services will be the two largest departments at the building. The building will also house Case Management Services and the Student Well-being, Intervention, and Follow-up Team, or SWIFT, which handles crisis response. The Well, UCR's health promotion and education department, and Basic Needs, which assists with housing and food, will also have satellite space at the new facility.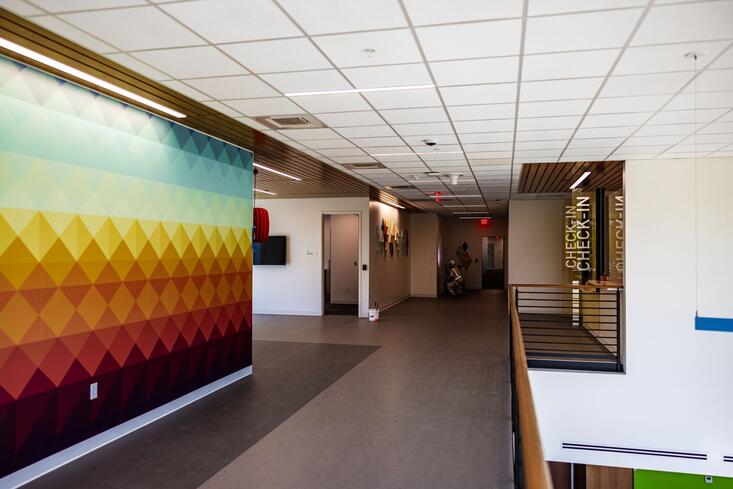 Elizabeth Mondragon, director of Counseling and Psychological Services, or CAPS, described it as a "one-stop shop for well-being" where staff members can facilitate appointments or walk students over to other offices to help them with different needs.
"It really creates some synergy at a level we haven't had before even though we've been good partners," she said.
With about twice the size, the building also represents a major upgrade from the Veitch Building, the 1960-era building that housed CAPS and Student Health Services until now. 
On the first floor of the new building, Student Health Services will have an urgent care center, a pharmacy, a full-service laboratory, a radiology office, an ambulance loading area, and an ultrasound suite. The medical wing has 25 exam rooms, more than twice the number at Veitch, plus a nurse's station and specialized areas for women's health services.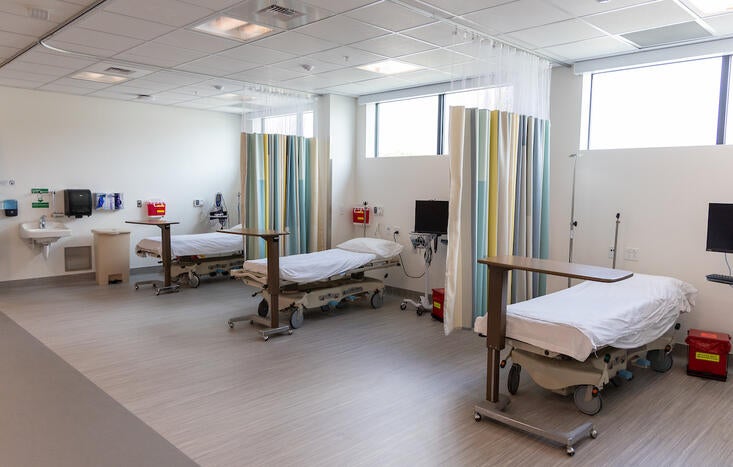 The new space will increase appointment availability for students who will be able to schedule appointments faster and more efficiently, said Dr. Kenneth Han, chief medical officer.
The space also allows for a significant technology upgrade, which is being accompanied by a redesigned website where students can easily manage their healthcare, he said.
CAPS will be located on the second floor along with Case Management Services, SWIFT, and other administrative offices. It features large spaces for group therapy as well as offices for individual appointments, which have a soundproofing system that provides privacy to patients. Other new features include a large conference room and a meditation room that can be used for meetings and activities.
The lobby is designed to allow patients to enter discretely via a stairway by the side or elevators around the corner. The building has multiple entries, including one through a courtyard garden facing the campus.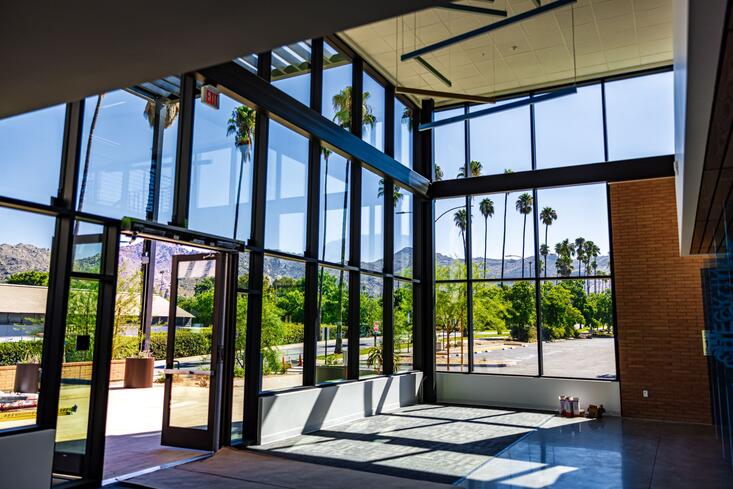 The center is within walking distance from many of the student residence halls, such as North District, Dundee, and Pentland Hills. For students who live off-campus, the center will have designated patient parking spaces at Lot 21.
Dexter Galang, project manager with the Office of Planning, Design, and Construction, said the building is designed to create a soothing, healing atmosphere. The building features large windows that allow for lots of natural light and views of the mountains with walls painted in soft blue, yellow, and green pastel colors. 
Han said the center encompasses all aspects of care, not just for treating students when they're sick, but keeping students healthy and well.
"The campus leadership focused their time, energy, and resources for this building," he said. "It sends a message that we care about our students and want our students to succeed here. "