Call it the Campus Space Shuffle.
Hybrid work has swept over the campus post-pandemic, an office space dynamic that is compounded by the campus giving up leases in University Village this month, a business park on Chicago Avenue soon, and in the Intellicenter on Meridian Parkway.  
With the purchase of a new office building on Iowa Avenue and a reconfiguration of the vast second and third floors of the Student Services Building, many will soon be shuttling boxes and rehoming desktop family pictures.
Many of those displaced employees will end up at a new 50,000-square-foot office building on Iowa Avenue or in the Student Services Building.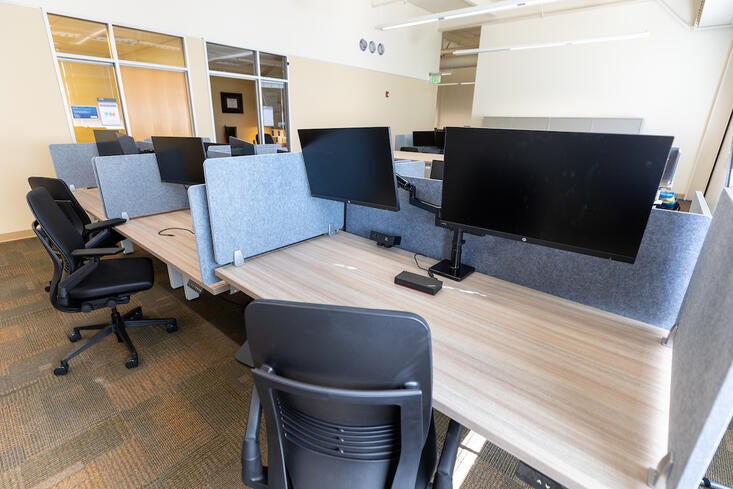 Among other moves:         
•    Human Resources is scheduled to move to the first floor of Hinderaker Hall.
•    International Affairs and Undergraduate Education will move, respectively, from Skye Hall and Hinderaker to the second floor of Student Services. Student Business Services remains on the second floor. 
•    Enrollment Services — registrar's office, financial aid, admissions — has moved to the redesigned third floor of the Student Services Building.
•    Business and Financial Services and Real Estate Services are among the units that will move to the new building on Iowa Avenue. Sustainability has moved to the Computing & Computations Building, or C&C, near the Botanic Gardens.
•    Planning, Design, and Construction is proposed to move to Facilities Annex A, which is the former EH&S building in the southernmost part of campus. 
•    Facilities Services will move into the modular buildings that were moved from the School of Medicine building site to the Corporation Yard between Linden Street and Watkins Drive. 
•    Other changes still under discussion will involve academic space in Olmsted and Skye halls.
The post-pandemic era has introduced new workplace dynamics, said campus space manager Sharyl Murdock. Many employees no longer come into the office each day and their space is empty the rest of the week, hence the need for "hotel" — i.e., part-time, shared — accommodations. 
The most visible changes in space design are on the third floor of Student Services, where the campus has gone all-in on shared workspaces. The project could be a pilot for future space adjustments, said Gerry Bomotti, vice chancellor and chief financial officer.
"The overall goal is to more efficiently use our campus office/administrative space post-COVID, allowing UCR to focus new facilities planning on instructional and research space needs," Bomotti said.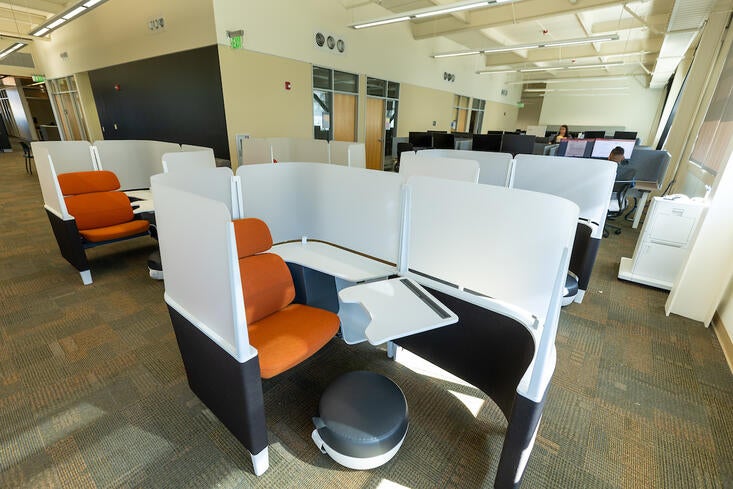 The third-floor space borrows from a "Starbucks mentality," Murdock said. That means collaborative space and choices, including options like a high-top table, a standard four-person booth, a "bar" with stools, reservable private offices, U-shaped couches, and traditional workstations. There are also "Brody chairs," a cross between lounge chair and cubicle. 
"In the morning, maybe you need an office for meetings, but in the afternoon, you can sit on the couch and work on a height-adjusted table," Murdock said. "It's about giving people a lot of choices." 
True to hoteling, the new third-floor space also includes 122 lockers. 
"We expect that hybrid work and space sharing will continue," Murdock said. "This will allow us to use our space more efficiently and help accommodate anticipated campus growth."