UC Riverside and its community partners celebrated a unique collaboration Wednesday, Nov. 4 as construction begins on a new housing complex that will be home to future university and community college students.
The North District Phase 2 project represents a first for both UCR and the Riverside Community College District, or RCCD, creating a residential community for students from both campuses. Located just west of the first North District housing complex, the new project will consist of two apartment-style buildings with 1,568 beds. It is expected to open in August 2025 after 22 months of construction by contractor McCarthy Building Companies.
At a groundbreaking ceremony held on a blustery morning, community leaders heralded the partnership between UCR and RCCD. They described the project as an opportunity to not only provide much-needed housing but also to help students continue their paths in higher education.
Chancellor Kim A. Wilcox said California should be proud of its transfer rates of community college to universities but can always do better. That's at the heart of the partnership, he said: Helping students who can't find housing or feel unsure whether they're ready for a four-year university.
"We can't solve all the problems that are challenges for students, but we can solve those two by bringing students to the campus, letting them live here, wear their UCR or RCCD T-shirt, and just be part of the campus," he said. "It breaks down a barrier and aside from the housing, it provides them with a different sense of themselves."
RCCD Chancellor Wolde-Ab Isaac said he hopes the project serves as a model to others in the state.
The project not only finds a new approach to meet student housing needs "but it is unique because it is meticulously and intentionally designed to break persistent cultural and psychological barriers that many of our first-generation and low-income students experience through a process of total immersion into the UC system," Isaac said.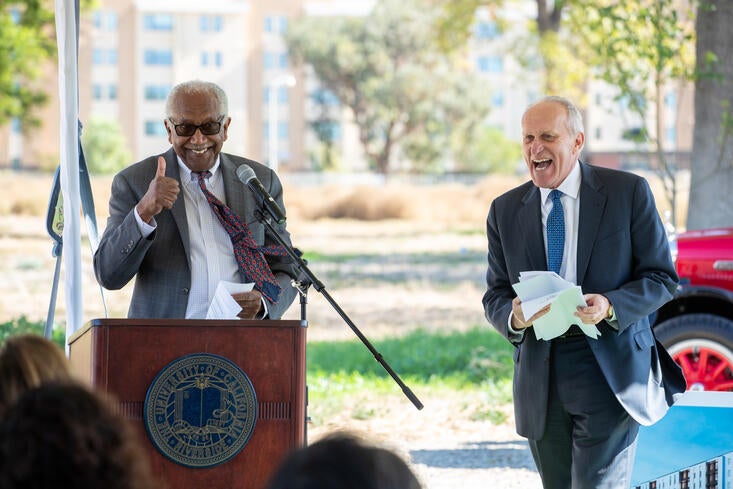 RCCD Board President Bill Hedrick described the project as a transformative one for students, saying he expects to see transfer rates rise.
"This blended housing project is the beginning of fulfilling a dream to provide our students not only with housing, but with access to four-year facilities and academic support services on the UC Riverside campus," he said. 
The $347.8 million project received $126 million in state money, for which UCR and RCCD jointly applied. Assembly members Sabrina Cervantes, D-Riverside, and Corey Jackson, D-Moreno Valley, hailed the partnership as a model for the type of projects the state should provide funding for in the Inland region.
Riverside Mayor Patricia Lock Dawson noted how the city, university and community college district have all been working to raise the region's educational attainment. This project represents a pathway to do that while offering affordable housing, she said.
"What's important here is not just education but hope," she said. "When we tell our youth 'We're going to give you this beautiful building to come and be part of,' it tells them we believe in them and we know they're going to do well."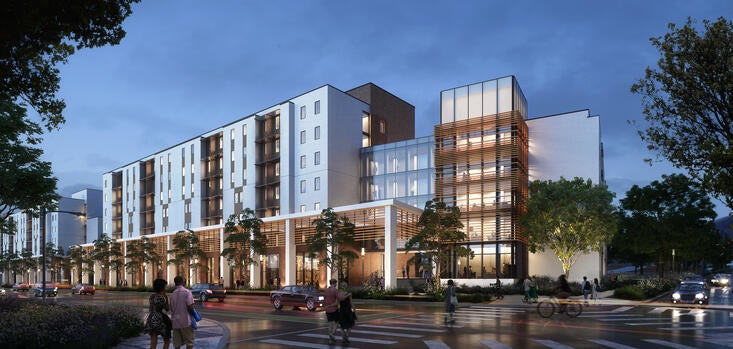 Designed by SCB Architects, the new buildings, six to seven-stories tall, will be part of a residential neighborhood that will include a shaded pedestrian walkway, a café, fitness space, courtyards, a community park, and recreation fields. Residents will also have amenities such as laundry facilities, meeting rooms, and group study spaces. 
With its location along Canyon Crest Drive, at the northwest corner of campus, North District will become a "beautiful, university gateway," said Jacqueline Norman, campus architect.
Good design not only provides a beautiful and functional environment, but also manifests the aspirations of the university, she said. Norman said successful buildings can transform the campus experience, looking ahead to the students who will move in, make new friends, test new versions of themselves, and write their own stories at North District.
"Whatever their dreams may be, I am confident that North District 2 will be intrinsic to their college experience, and the thoughts and emotions had here will root themselves fondly and deeply in their memory of their time at UCR," she said.