Moses Preciado's personal motto is "seize the opportunity." 
The operations manager at Lothian Residential Restaurant is doing precisely that. Six months ago, he joined Riverside's branch of Toastmasters International and recently won first place in the evaluation contest.
The branch, officially named Toastmasters Speakeasy Club 8704, hosts weekly meetings near UCR, but open to the community. 
Toastmasters offers two separate contests: speaking and evaluating. In the speaking portion, contestants are judged for their oral and eloquence abilities. In the evaluation contest, a guest speaker delivers the speech and the evaluator is allowed a five-minute break to prepare remarks. The evaluator, in this case Preciado, was evaluated himself by a panel of five judges for his delivery, precision, and factual accuracy.
Preciado competed against two other contestants in the evaluation category and won the first place award. 
"This part I wasn't expecting at all. I joined Toastmasters because my department supports that program and I wanted to take advantage of the leadership training," said Preciado, '11, who started working in Dining and Hospitality Services in 2007 as an undergraduate.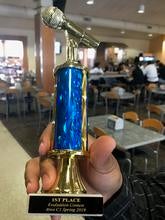 Preciado is completing Toastmasters' online component, which includes a section on effective coaching methods. This particular session has five levels with four subcategories per level that each require a speech.   
"I'm grateful for the opportunity, but it's true that I couldn't be away without my colleagues, especially Pat Sorokowski and Teresa Garcia. They step in to cover me while I am gone every Tuesday for an hour," Preciado said.  Sorokowski is also an operations manager, and Garcia a senior manager at Lothian Residential Restaurant. 
Preciado's training is supported by Housing, Dining and Hospitality Services. The development opportunity was extended to the department's administrative team, said Ebony Phillips, training manager for Housing, Dining and Hospitality Services. 
The Toastmasters area contest has allowed Preciado to advance to the divisional contest, set to take place on April 20 in Moreno Valley. 
"The overarching theme here is seizing the opportunity," Preciado said.