The innovators behind geographic spatial mapping technology, an expert on animal tissue research, a business CEO with a long history of charitable giving, and a state legislator who has strongly supported educational funding will be honored at the annual Chancellor's Dinner on Oct. 19.
UCR graduates Helen Newman, Jerry Swain, and Sabrina Cervantes will receive the 2019 Alumni Awards of Distinction, while the UCR Medallion will be presented to Jack and Laura Dangermond, founders of Redlands-based Environmental Systems Research Institute, or Esri.
Since 1986, the UCR Alumni Association has honored graduates who personify the university's tradition of excellence and service. Through their personal and professional achievements, these individuals bring distinction to UCR, contribute to the betterment of society, and enhance their communities. The UCR Medallion is presented in recognition of innovation, leadership, and philanthropy.
Proceeds from the dinner benefit scholarship and fellowship initiatives at UCR.
Here are the award winners: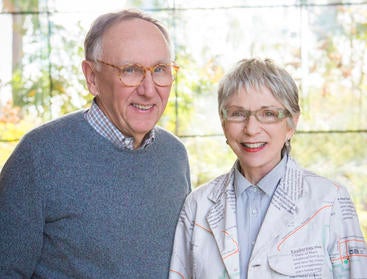 UCR Medallion: Jack and Laura Dangermond
A landscape architect by training, Jack Dangermond, along with his wife, Laura, founded Environmental Systems Research Institute, or Esri, in 1969 with a vision that computer mapping and analysis could help design a better future. Under the Dangermonds' leadership, that vision has continued to guide Esri in creating cutting-edge GIS and Geodesign technologies used in every industry to make a difference worldwide.
The Dangermonds fostered the growth of the Redlands-based Esri from a small research group to an organization recognized as the world leader in software development for geographic information systems, or GIS. Esri employs more than 4,000 people worldwide including many who have been with the company from the early days of the company.
The award recognizes the Dangermonds for their innovation, leadership, and philanthropy in education and geospatial technology, and for conservation and humanitarian contributions to the global community.
Distinguished Alumnus Award: Helen Newman '79
The most prestigious honor bestowed by the UCR Alumni Association, the Distinguished Alumnus Award is based on national and international distinction in one's field and significant contributions to humankind.
Newman attended UCR from 1975-79 and earned a bachelor's degree in biochemistry. She went on to receive a doctorate in neuroanatomy from the University of Washington in 1983. Newman is the founder of Washington-based Veterinary Transplant Services Inc. and developed a surgical veterinary orthopedic product that is the only one of its kind in the world. She and her team make orthopedic bone products for dogs, cats, and horses; provide medical device companies with animal tissue grafts; and produce soft tissue and cornea allografts for animal transplants.
Newman is an internationally recognized expert in tissue typing and research. She has served as a tissue bank inspector and on the standards and procedures committee for the American Association of Tissue Banks. She's also an elected member of the board of governors and chair of the Tissue Bank Council. She is the founder of Progenica Therapeutics, which develops technologies to aid in the creation of novel molecules used to stimulate healing in biological settings.
Alumni Service Award: Jerry Swain '89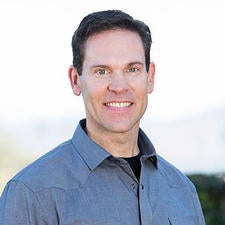 This award honors superior service in the public sector or a sustained pattern of volunteer service in the community, arts, or for the benefit of UCR that has positively represented the university and fellow citizens.
Swain graduated from UCR in 1989 with a bachelor's degree in business administration. He founded and served as CEO of Jer's Chocolates, a Solana Beach-based company he conceptualized while living in the Aberdeen-Inverness Residence Hall. In 2014, he sold the business and became president of West Coast operations. He now serves as a professional speaker and partner at CEO Coaching International, and chair for TIGER 21 in San Diego.
Swain has a long history of service to the community and the university, including 14 years as a UCR Alumni Association board member. His Jer's (Chocolate) Cares Initiative donated over $250,000 to more than 80 local and national charities. He has served on many boards of directors, including for the American Cancer Society - San Diego, Young Professionals Against Cancer, and the San Diego Food Bank. He is a committed volunteer and advocate for the Special Olympics. For more than 25 years, Swain has volunteered to speak at elementary, middle, and high schools throughout Southern California.
Outstanding Young Alumnus Award: Sabrina Cervantes '09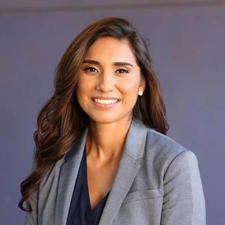 This award recognizes alumni aged 40 or younger with a significant record of career and/or civic achievement and promise in their profession.
Assemblywoman Cervantes graduated with a bachelor's degree in political science in 2009. She then completed an executive education program at Harvard University's John F. Kennedy School of Government in 2013. Cervantes was elected in November 2016 to represent California's 60th Assembly District, which includes the communities of Corona, Eastvale, Jurupa Valley, Norco, and Riverside.
Cervantes' top priorities include veterans, public safety, transportation, higher education, and the economy. In her first year, she secured a $2 million allocation for a veterans resource center at Norco College. She has authored legislation to support and protect California's veterans, seniors, students, and families. Cervantes also served as a director for the Legislature and the California Voter Project. 
Prior to serving in the Assembly, she worked with community organizations to enhance the local economy and improve access to quality education and governmental services. Cervantes is a member of the Human Rights Campaign and previously served on the board of directors for nonprofit organizations TruEvolution and Women Wonder Writers. She is also a member of the UCR School of Public Policy Advisory Board. One of her most notable acts was working alongside Assemblyman Jose Medina to help fund UCR's School of Medicine.