UC Riverside student Jennifer Le is one of 14 recipients of the Donald A. Strauss Public Service Scholarship for a project seeking to close the gender gap in the science, technology, engineering, and mathematics fields, or STEM.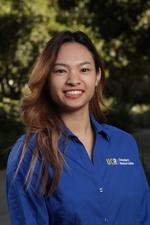 The Donald A. Strauss Public Service Scholarship Foundation provides $15,000 scholarships to college sophomores and juniors to fund public service projects they proposed. This year's recipients were announced on Monday, May 18.
Le, a junior studying biochemistry, submitted a proposal to work with female faculty members and students at UCR to create a mentorship program for Riverside County high school students this fall. The one-year program would help build confidence for female students pursuing STEM careers through weekly mentoring sessions. 
The students would focus on different topics every month, design their own hypothesis and experiments, and be encouraged to serve as peer mentors for the next group of students after completing the program.
"I'm very humbled to have the opportunity to start a program that addresses an issue I feel passionately about," Le said.
Le was also recently awarded the Barry M. Goldwater Scholarship and is a UCR Chancellor's Research Fellow. The 20-year-old plans to pursue a doctorate in biomedical science with the goal of becoming a professor, mentoring students, and conducting research.
The Strauss scholarship is named for a former Newport Beach mayor and school board member who was a supporter of public service and education. It was created in 1997, two years after his death, and has awarded more than 300 scholarships.