For his numerous contributions to education in science, technology, engineering, and mathematics, or STEM, Bahram Mobasher, a professor of physics and observational astronomy at UC Riverside, has been named a recipient of the Riverside Unified School District Board of Education Presidential Award for the year 2020.
The Riverside Unified School District, or RUSD, educates nearly 42,000 students across 50 schools in Riverside County. The award is given annually by the RUSD Board of Education. Past recipients include Gordon Bourns and Cindy Roth.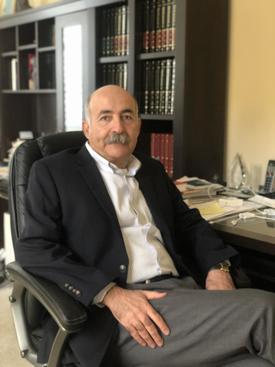 "Given the shortage of STEM-literate individuals in today's workforce, it is imperative to have a strong STEM education program at our schools," Mobasher said. "Our program at UCR introduces students to state-of-the-art science and technology and gets them excited about STEM fields. I am deeply honored to receive this award from the district."
For several years, Mobasher has been instrumental in enhancing K-12 students' experiences in STEM fields by establishing new educational programs. Through his NASA grants, he developed a STEM education and training program covering high school to graduate school and beyond. He created a summer academy program for high school students to take college courses at UCR, developed training programs for high school teachers, and sponsored many UCR students for internships at the NASA Jet Propulsion Laboratory and graduate research at several UCR departments. These programs have supported more than 400 students, many from underrepresented minority groups, over the last few years. 
"We reach around 6,000 K-12 students every year through our STEM outreach efforts in Southern California, resulting in students' participation in hands-on science and engineering activities," said Xinnan Du, director of education and public outreach at the NASA MIRO FIELDS program at UCR and a postdoctoral scholar who works with Mobasher. "We also host telescope sky nights and public lectures focused on NASA-related topics."
The joint recipient of the 2020 Riverside Unified School District Board of Education Presidential Award is virologist Azin Mobasher, former PTSA president of the Riverside STEM Academy. 
"The commitment of the Mobashers to igniting students' interest in STEM subjects is simply extraordinary and the entire district is grateful for their dedication to education," said Kathy Allavie, president of the RUSD Board of Education.  
A presentation of the awards will take place at 5:30 p.m. on Thursday, Oct. 22, and can be watched at riversideunified.org.