UCR author Allison Hedge Coke has been inducted into the Texas Institute of Letters, or TIL. Founded in 1936 to celebrate Texas literature and recognize distinctive literary achievement, this is the 85th year members of the TIL have inducted new members to join the distinguished honor society. Hedge Coke is among 14 distinguished writers inducted for 2021, announced on Jan. 29.
Members of the TIL include the state's most respected writers of fiction, nonfiction, poetry, journalism, and scholarship, including Pulitzer Prize, National Book Award, and Academy Award winners, among others. Induction is decided by TIL members and based on honorees' literary accomplishments.
"Honored and thrilled to be inducted into the Texas Institute of Letters," said Hedge Coke, who was born in Amarillo. "The call was a true surprise and as George Saunders and I were born in the same town, same year, a thrill to be inducted with him, with Cristina Rivera Garza, Scott Wiggerman, Tony Diaz and more. An exceptional pleasure. My heart to the president, Sergio Troncoso, the former presidents and council and all the members, especially Norma Cantu, Sandra Cisneros, Lisa Sandlin, Tim Tingle, Ito Romo, and Naomi Shihab Nye."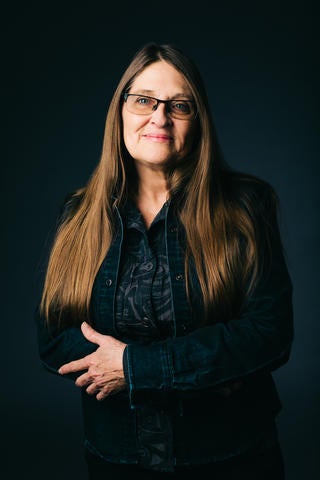 The 2021 honorees include fiction and nonfiction writers Cristina Rivera Garza, George Saunders, Bryan Washington, David Samuel Levinson, and Preston Lewis; award-winning poets Allison Hedge Coke, Kevin Prufer, and Scott Wiggerman; children's and YA authors Crystal Allen and Chris Barton; journalist Gail Caldwell; literary activist Tony Diaz; award-winning songwriter Michael Martin Murphey; and historian Raymond Caballero.
"The Texas Institute of Letters continues to identify and honor outstanding writers from all literary genres: from novelists bent on experimentation and innovation in the form, to poets crafting beautiful yet technically difficult stanzas," said Sergio Troncoso, president of the Texas Institute of Letters, in a press release announcing the new inductees. "Our newest members have also been expanding literary audiences to include diverse voices and readers, and opening minds with books that reconsider history and scholarship. We are extremely proud of the outstanding work that these writers represent: expertly crafted song lyrics, children's stories full of empathy and humor, journalism that aims to focus on the margins of society, and prose exemplifying the excellence of literary creativity. These 14 masters of the word include short-story writers, poets, songwriters, novelists, publishers, children's authors, and scholars."
Hedge Coke is a distinguished professor of creative writing and author of several poetry collections including "Dog Road Woman," "Off-Season City Pipe," "Blood Run," and "Streaming" as well as the memoir "Rock, Ghost, Willow, Deer: A Story of Survival." Her accolades include the American Book Award, PEN/Southwest Book Award, fellowships from the NEH in Poetry and the Lannan Foundation Residence, the First Jade Nurtured SiHui Female International Poetry Award, a Fulbright grant, and a Lifetime Achievement Award from the Native Writers' Circle of the Americas.
Hedge Coke was named the Dan and Maggie Inouye Distinguished Chair in Democratic Ideals for the spring 2020 semester at the University of Hawai'i at Mānoa and serves as director and principal investigator for the ongoing project, "Along the Chaparral: Memorializing the Enshrined," as part of the Veterans Legacy Program implemented by the U.S. Department of Veterans Affairs. Hedge Coke also assumed the role of director of UCR's Writers Week, California's longest-running free literary festival, in fall 2020.