Geology Professor Andy Ridgwell has been named a 2021 fellow of the American Geophysical Union, or AGU, one of the most significant honors a scientist in earth sciences can receive.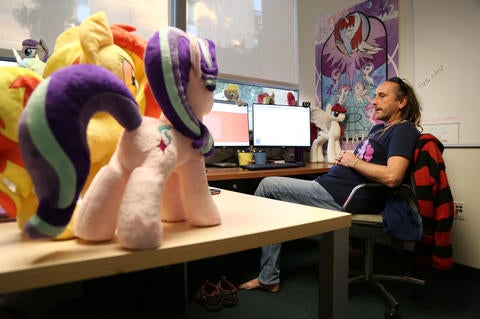 AGU is a large international society dedicated to promoting Earth and space science. It elects fewer than 0.1% of its 60,000 members each year to join this prestigious group of individuals. 
Ridgwell's new status as fellow acknowledges his decades of research into the causes of dramatic climate events in Earth's past, as well as what the future is likely to hold.  
"We already have good reason to suspect that the atmospheric concentration of heat-trapping 'greenhouse' gases such as carbon dioxide and methane played a pivotal role in previous climactic changes," Ridgwell said. "An essential step for our complex models of future climate change is to be able to understand the causes of past warm climates on Earth."
He uses what are known as 'intermediate complexity Earth system models' to understand the likely causes of climate changes over long periods. These models examine the movement of elements through living parts of the Earth, such as plants and animals, and non-living systems such as rock formations, ocean currents, and the atmosphere. 
Ridgwell has spent the last two decades developing an intermediate complexity climate model called the cGENIE, It is "best thought of as a 'discovery and exploring' tool for learning how the Earth system might work, rather than necessarily as a detailed 'simulation' tool," he said. 
The tool has led to some unusual discoveries. For example, he was part of a team that discovered in order to survive the darkness of an asteroid strike that killed the dinosaurs, algal plankton learned a ghoulish behavior — eating other living creatures. 
Not only is Ridgwell recognized internationally for the breadth, creativity, and quality of his research, he is also widely commended by colleagues for his leadership skills. Sandra Kirtland Turner, a UCR associate professor of paleoclimate / paleoceanography, says his guidance was critical in shaping her career. 
"Andy is incredibly supportive of junior scientists," Turner said. "I've known him since I was a young, female Ph.D. student and his mentorship has been, without a doubt, the single most influential aspect of my scientific training."
Though election is rare, there are other recently named AGU fellows at UCR, also in the Department of Earth and Planetary Sciences. Marilyn Fogel, the Wilbur W. Mayhew Endowed Chair in Geo-Ecology, and Timothy Lyons, distinguished professor of biogeochemistry, both received the honor in 2018. 
This year's class of 59 fellows will be honored at AGU's December Meeting in New Orleans. Read an announcement and a complete list of fellows on AGU's website.