Nine UC Riverside staff members were honored by UCR Staff Assembly as part of its annual Outstanding Staff Awards.
The awards were presented at an afternoon ceremony Wednesday, June 29, at the Alumni and Visitors Center. It was the first in-person presentation of the awards since 2019.
The awards recognize staff members for excellence in their work, commitment to the university's mission, and making UC Riverside a better place for all.  
Staff and faculty nominated staff members for the awards, and the UCR Staff Assembly Recognition Committee chose the recipients. The awards were given in six main categories. 
Chancellor Kim A. Wilcox and Provost and Executive Vice Chancellor Elizabeth Watkins attended the ceremony and presented trophies and posed for photos with the winners.
Wilcox described the honorees as an example of campus staff committed to working for a greater good.
"Thanks for keeping our university alive and vibrant through one of the most challenging periods in our history," he told them.
Four people were recognized with the Staff Who Make a Difference Award, which honors staff in four different areas: administrative support, professional, service, and technical. The Tartan Soul Award, the Commitment to Diversity Award, the People Helping People Award, the Mary Johnson Outstanding Retiree Award, and the Volunteer of the Year Award were presented to individual winners.
Here are the winners of the 2022 Staff Who Make a Difference Award:
•    Alice Chavez, a budget personnel and program assistant at Chicano Student Programs and Undocumented Student Programs, won in the administrative category. She was instrumental in creating a process to speed up the application process for students filing for the Deferred Action for Childhood Arrivals program and seeking coverage of immigration fees. Chavez shortened a process that usually took a year to a month and has been asked to consult for UCLA's Undocumented Student Program to help them speed up their own approval process.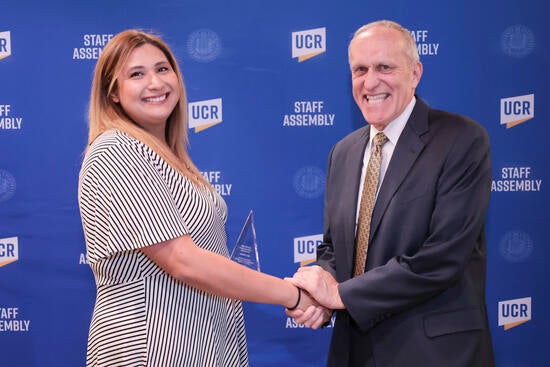 •    Cortney Crooms, a work force administration payroll analyst at Enrollment Services – Finance and Administrative Services Team, won in the professional category. Her colleagues and supervisor described her as being the first to step up and help when needed, whether taking on a bigger workload, helping with recruitment of new staff, or training individuals on new assignments. She was part of a team that recommended bringing the campus Shared Services centers together to coordinate compliance issues.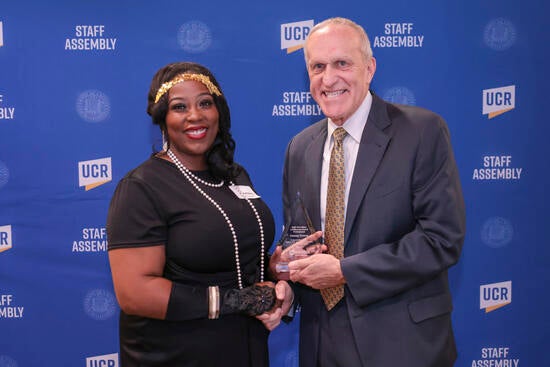 •    Francisco Hernandez, a groundskeeper for Facilities Services, won the service award. He was praised for his eye for detail and passion for aesthetically pleasing landscaping so that the campus landscape can be enjoyed by students, staff, faculty, and visitors. His supervisors praised him for his care and work ethic.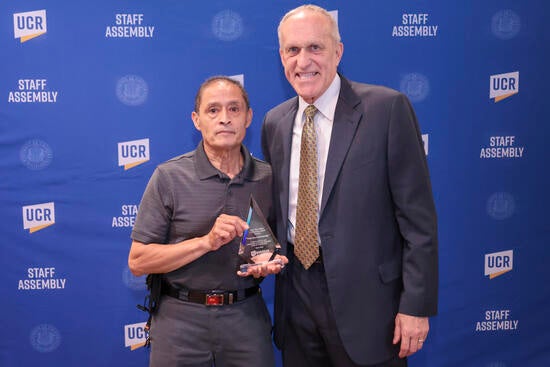 •    Mike Bonetti, a facilities supervisor at the UCR Palm Desert Center, won in the technical category. Bonetti helped the center as it dealt with budget cuts by finding $100,000 in savings. He also helped promote sustainability through installing LED lighting to save on energy usage, shutting down the ventilation system when not in use, and updating the irrigation system to conserve water.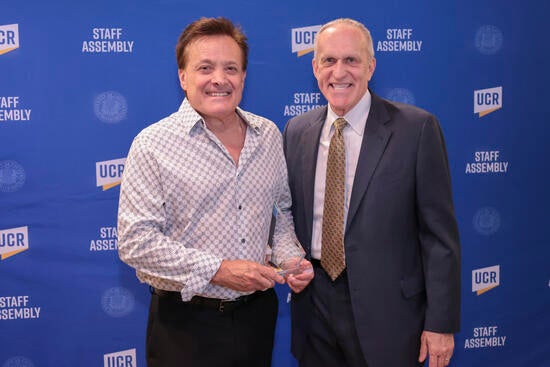 In the other categories, the winners are:
•    Sheryl Hayes, former director of the Financial Aid department, received the Mary Johnson Outstanding Retiree Award. As a retiree, Hayes has devoted many hours as a volunteer at the UCR Botanical Gardens helping with upkeep.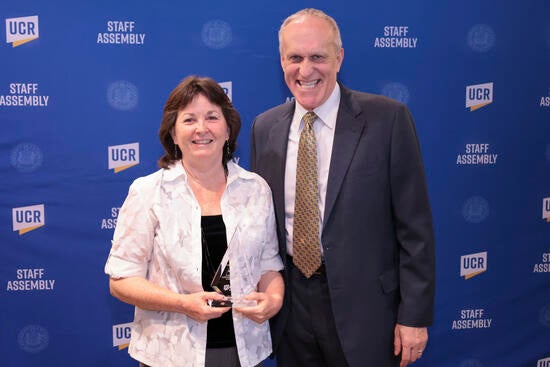 •    Susan Komura, financial and administrative officer of the Financial Aid department, received the Tartan Soul Award. Komura, who is retiring after 33 years of service, was praised for her professionalism, problem-solving abilities, sense of humanity, and compassion.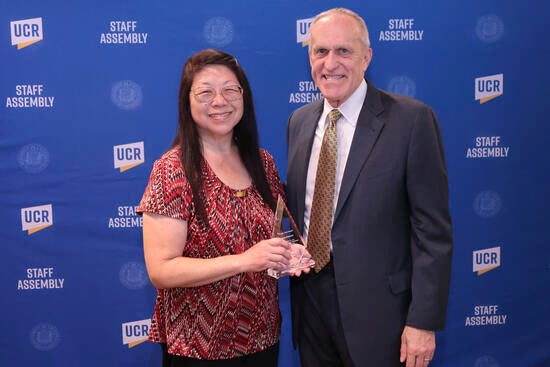 •    Melbert Sebayan, an enrollment marketing manager for University Communications, received the Commitment to Diversity Award. Sebayan has volunteered for several workgroups and committees. He helped shape campus-community engagement and developed marketing and communications that connect with a diverse prospective student audience.
•    Alex Cortez, an academic coordinator for the College of Natural and Agricultural Sciences, received the People Helping People Award. In his role at CNAS, Cortez trains students in a laboratory setting. He also serves as president of the Chicano Latino Alumni chapter, is a member of the UCR Alumni Association Board of Directors, and volunteered for several community organizations including the Cheech, the new Chicano Art Center in downtown Riverside.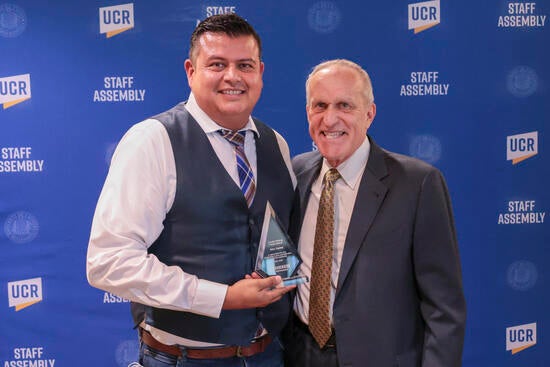 •    Dante Kruise, a coordinator with Basic Student Needs, received the Volunteer of the Year Award. Kruise helped launch and implement the Staff Pantry program which held 12 pop-up events that attracted 1,700 visits and distributed nearly 50,000 pounds of food to 450 staff members.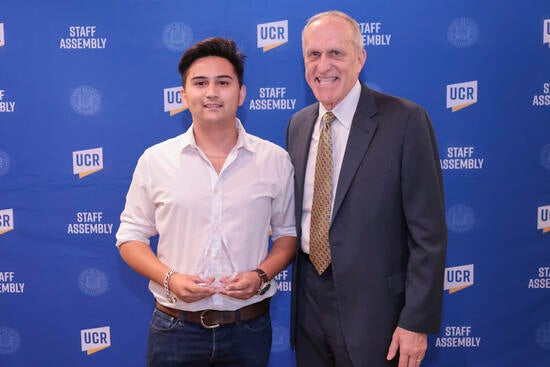 As part of the ceremony, Staff Assembly also recognized and thanked Watkins for her support of Staff Assembly and its programs. The group also recognized its board members: Valeria Bahtell, Julie Salgado, Erika Leon, Melanie Ramiro, Lesley Martinez, Jules Bernstein, Brianna Morales, Kathy Van Horn, Penni Ebina, Brittany Fraser, Agam Patel, Dennis McIver, and Jeff Girod.