A project installing solar panels on two UC Riverside buildings has won a top prize from a solar energy industry publication.
Solar Builder Magazine awarded the Rooftop Project of the Year to the campus for a project installing over 1,000 solar panels on the Student Recreation Center and Student Services Building roofs last year.
The two installations provide a combined 474 kilowatts of solar energy, expanding access to on-site renewable energy on campus.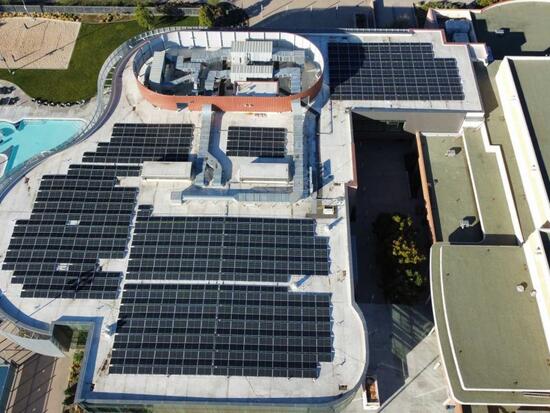 The magazine recognized UCR and Stronghold Engineering, Inc., the company that designed, constructed, and installed the solar panels, calling the project a showcase of problem-solving.
"The University of California, Riverside project winning the C&I Rooftop Project of the Year is a real win for installers and engineers who encounter all sorts of complications on each project and must get creative to find solutions that meet or even exceed customer objectives," the magazine stated.
Kevin Goetz, solar manager at Stronghold, told the magazine the challenge for the engineers was working within the existing roofs' footprints to provide maximum solar generation while minimizing the impact to the buildings and preserving the existing architectural characteristics.
Goetz expressed thanks to the Office of Planning, Design, and Construction, which oversaw the project.
John Franklin, a project manager with Planning, Design, and Construction, said the projects are part of UCR's continuing commitment to the University of California's Carbon Neutrality Initiative to move to net-zero greenhouse gases from its buildings and vehicle fleet.
Since then, another project was completed on the Lothian Residence Hall, adding 211 panels generating 92 kilowatts of solar energy.
The projects are the largest installations of solar panels on campus since a 2017 project when 9,600 solar panels were installed in parking lots 30 and 32.