Jay Gan, a UCR professor of environmental chemistry, has been awarded a $750,000 grant to develop strategies that would enable more sustainable use of dwindling water supplies while also minimizing harmful chemicals in our food.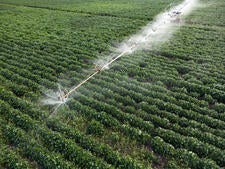 As a warming planet changes precipitation patterns, there is less freshwater available to grow food for an exponentially increasing number of people. Treated, recycled wastewater is one of several options that could meet the urgent agricultural need. 
One hurdle to safely using recycled water is that it introduces numerous chemicals of environmental concern onto farms, where they can accumulate in food. The National Institute of Food and Agriculture grant will enable Gan to develop strategies to minimize these chemicals in edible plants. 
"Treated wastewater is mostly just released into rivers and oceans, and is mostly 'wasted,'" Gan said. "The mitigation strategies explored in this project will help safeguard the use of treated wastewater in agriculture and alleviate public concerns, which should ultimately lead to the increased adoption of water reuse and benefit not only agriculture, but also society at large."
One theory Gan's group will test is whether perennial fruit trees such as apple, peach, and avocado take up smaller amounts of the chemicals than other types of crops. If this proves to be true, using recycled wastewater for growing them becomes a more viable option. 
His group will also test whether growing fruits with an alternating combination of recycled and fresh water further minimizes the amount of concerning chemicals in the fruits. These tests will be carried out both under greenhouse and field conditions. 
Knowledge developed with these experiments will contribute to a more stable U.S. food supply by helping ensure water resources for agriculture.
Gan's research areas include the toxicology and environmental chemistry of contaminants including pesticides, pharmaceutical and personal care products, plasticizers, flame retardants and microplastics. He received his Ph.D. from Zhejiang University in China in 1988, followed by postdoctoral training at the UN-International Atomic Energy Agency's Laboratories in Seibersdorf, Austria, University of Minnesota, and the USDA George E. Brown Salinity Laboratory, where he was also a project scientist. He joined the faculty at UCR in 2001.
He is a fellow of numerous organizations, including the American Society of Agronomy, the American Association for the Advancement of Science, the Soil Science Society of America, and the American Chemical Society-AGRO Division.