The COVID-19 Student Taskforce, a group of self-organized students in the Inland Empire, is working to create a support network for local community members and mitigate the social, economic, and health impacts of the COVID-19 pandemic. 
The task force was formed in early March this year by a group of UCR School of Medicine students and is comprised of eight steering committee members and more than 80 UC Riverside, California University of Science and Medicine, and Loma Linda University undergraduate, graduate, and medical students. Students are engaged in several activities, including:
Operations management and volunteer referral/coordination for local community-based organizations providing food donations and grocery deliveries, public health information, emergency child care, and resource dissemination.

Advocacy and policy recommendations for local and state public officials, including petitions, issue-specific calls/emails, and an "advocacy of the day" messaging campaign.

Soliciting donations for hygiene and medical supply drives.

Creating a telemedicine/public health information call line for vulnerable populations in the Inland Empire.

Developing a virtual empowerment and enrichment curriculum for school-age children of health providers, to be presented by medical students.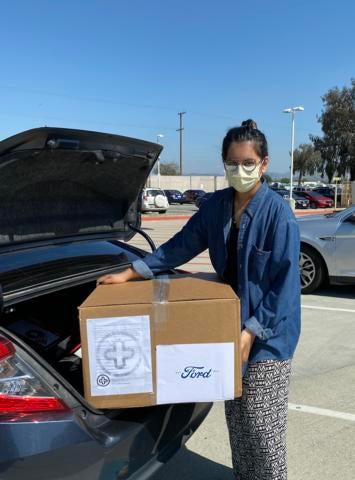 "This crisis has shown us what we already knew — that health is collective," said fourth-year UCR medical student Anum Iqbal. "While we are not yet at the stage in our careers to help on the front lines, we are grateful to be of service to our community through these volunteering, crowdfunding, and advocacy efforts."
Telemedicine calls
The telemedicine call center, housed at the Riverside University Health System in Moreno Valley, screens for COVID-19 symptoms, provides information on local resources, facilitates delivery of groceries, and educates the public on COVID-19 prevention. UCR medical students have been volunteering with the RUHS call center over the past few weeks.
Additionally, the COVID-19 Student Taskforce is working on expanding a public health line in partnership with UCR Health.
"We use guidelines from the Centers for Disease Control and Prevention to educate individuals on COVID-19-related symptoms, such as fever, coughing, and shortness of breath, and we prevent these patients from unnecessarily visiting emergency rooms," said Marilyn Corrales Arevalo, a first-year UCR medical student who serves as the lead on the telemedicine response. "We are working to further expand this work to provide self-management and medication adherence support for individuals with chronic conditions. Our aim is to prevent adverse outcomes related to diabetes, hypertension, and cholesterol that can further clog the health care system during this critical time."
 UCR medical students lead other task force projects in response to COVID-19, including advocacy, response coordination, and resource sharing for vulnerable populations in the Inland Empire.
Individuals interested in supporting the efforts of the COVID-19 Student Taskforce may contact the group via email, Twitter, or Instagram.