UC Riverside is opening a diagnostic lab that will allow for expanded and rapid testing of students, staff, and faculty members for the coronavirus.
The COVID-19 testing lab, located at the Multidisciplinary Research Building, or MRB, successfully tested its first sample on Aug. 12 and opened in early September.
The lab will allow the campus to conduct its own independent testing of the campus community at a rate of about 600 samples a day with results available within 24 hours, said Katherine Borkovich, a professor and chair of the Department of Microbiology and Plant Pathology. 
Borkovich and Isgouhi Kaloshian, a professor and chair of the Department of Nematology, led the efforts to create the lab after they were approached in May by Kathryn Uhrich, dean of the College of Natural and Agricultural Sciences, or CNAS.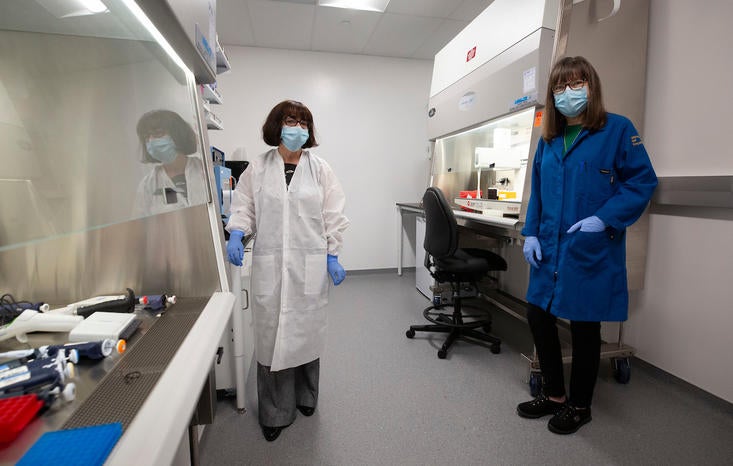 The lab will start on a small scale when it opens next month before ramping up in the following weeks. It is expected to test all students in campus housing by the start of the fall quarter.
The campus began discussing creating its own lab in April with Chancellor Kim A. Wilcox appointing Rodolfo Torres, vice chancellor for Research and Economic Development, and Dr. Deborah Deas, vice chancellor for health sciences and the Mark and Pam Rubin dean of the School of Medicine, to a group tasked with exploring that question.
"It's one additional and important measure among all the others in place to mitigate the effects of the pandemic," Torres said.
Staff and faculty members who interact with students and employees working on campus full-time will also be tested, he said.  Eventually, the goal is to test all students, staff, and faculty members on campus at least once a month. The lab is also exploring increasing the frequency of testing.
Samples will be collected by health professionals from Student Health and UCR Health at designated locations on campus and delivered to the lab for analysis. UCR Health has already piloted a drive-through location where samples can be collected in 15-minute appointments.
Borkovich said studies show that regular testing can significantly reduce the risk of an outbreak.
Deas described the effort as the result of months of hard work and collaboration that will provide the campus with greater availability of testing and rapid turnaround of results.
"This will help us to provide a safer environment for our community for teaching, learning, and working, and will help us partner more effectively with Riverside County to control and prevent future outbreaks," she said.
Student Health Services has had limited testing at its clinic since March but only for students showing symptoms or exposed to those who tested positive. The clinic used test kits from Quest Diagnostics, sending the samples off-site to a company lab for processing.
In recent weeks, health providers and public agencies in California and nationally have reported a shortage of COVID-19 testing kits and longer wait times for results, as much as two weeks.
UCR should not experience those issues with the new lab as the team is building its own kits and is conducting all testing on-site, Kaloshian said.
"They realize it's essential there is a lab like ours on campus," Kaloshian said of campus leadership.
She and Borkovich began the steps of putting together the lab in May, first adding three other members to their team, all from CNAS. 
Rong Hai and Juliet Morrison are both assistant professors and virologists in the Department of Microbiology and Plant Pathology and are experts in human RNA viruses. Matthew Collin, manager of the Institute for Integrative Genomic Biology Genomics Core and project scientist for the Dynamic Genome, rounded out the group with his expertise in instrumentation.
Kaloshian and Borkovich were appointed to a University of California-wide taskforce on testing and tracing with the goal of implementing testing on all UC campuses. 
They learned from the other campuses, especially Santa Cruz and Berkeley, which like Riverside don't have medical centers with existing clinical laboratory infrastructure.
Berkeley created a blueprint for a lab that is an extension of a clinical laboratory at a student health center. Hai is well-acquainted with the Berkeley researchers and consulted with them throughout the process. "That was absolutely a major help for us," Borkovich said.
The five-member team reached out to colleagues to borrow equipment such as refrigerators, robots, and polymerase chain reaction, or PCR, machines. The process saved the campus money and the time it may have taken to obtain items that were in high-demand, Borkovich said.
All the equipment they needed was already in use in campus labs and researchers were happy to loan items, sometimes trading machinery in what Kaloshian described as "a bit of horse-trading."
Almost all the equipment except robotic machinery was donated by CNAS faculty members or the RED incubator facility. Supplies such as tubes, swabs, plastic ware, solutions, and other chemicals were purchased to build the kits and conduct the tests.
Torres worked with Rosibel Ochoa, associate vice chancellor for Technology Partnerships, and others in RED and MRB to make incubator space on the first floor of the building available to house the lab. The building is already certified to meet biosafety level 2 requirements, which the Centers for Disease Control and Prevention requires for COVID-19 testing.
The team members loaded and hauled much of the equipment themselves, assisted by staff members from RED and the MRB when they moved in.
The team worked closely with Student Health Services to meet all local, state, and federal regulatory requirements for the testing lab.
Clinical testing of patient samples requires certification from the Clinical Laboratory Improvement Amendments, or CLIA, program. Student Health Services already has CLIA certification for its clinic and the new lab will operate under that license. The School of Medicine and UCR Health leadership have also been coordinating with Riverside County officials about COVID-19 testing and reporting requirements.
The lab consists of two small rooms where testing is done in multiple steps. The samples are transferred from tubes into small racks under biosafety hoods using robotic arms. Each rack has 96 wells with the capacity to test samples, each less than a drop size at 10 microliters.
Ribonucleic acid, or RNA, which carries the genetic information of RNA viruses, is extracted from each sample and put though one of the PCR machines, which basically amplifies the signal of the virus and makes it easier to detect.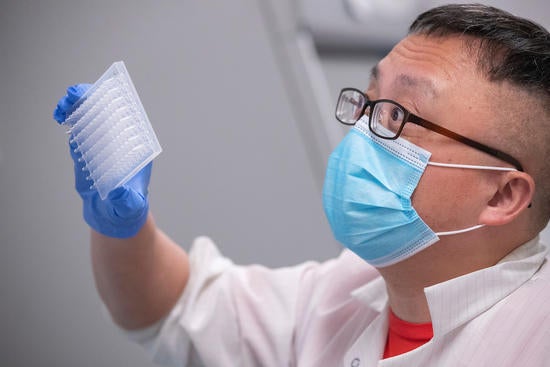 The procedure uses a kit approved by the FDA and adapted from other UC schools, Hai said.
"This will ensure the best biosafety practice and provide the highest sensitivity/specificity for detecting the presence of SARS-CoV-2 in positive samples," Hai said.
The data is logged into a computer database using a bar code scan system created by Information Technology Solutions that will track the sample throughout the process.
All personnel working in the lab must wear full personal protective equipment such as N95 masks, face shields, gloves, and gowns.
Morrison said additional robots are being purchased that will double the lab's capacity.
"Testing and case investigation are absolutely necessary if the campus is to eventually reopen for in-person teaching," she said.
Initially, Borkovich, Kaloshian and the rest of their team will work in the lab but they recently hired two lab technicians who will take over under their supervision.
Torres praised the faculty members who set up the lab, noting they took on the task in addition to their regular duties. He said the whole effort was possible by several groups coming together including CNAS, RED, Student Health Services, the School of Medicine, UCR Health, ITS, and Environmental Health and Safety.
"They say it takes a village," Torres said. "It took a village. It shows a lot about what the university is about."