A drive-thru site on a UC Riverside parking lot offering no-cost testing for the coronavirus has tested more than 6,000 people since opening a few weeks ago.
The location at Parking Lot 26 was initially only open on weekdays but has since expanded to weekends. Testing is now available daily from 8 a.m. to 12 p.m. and 1 p.m. to 4 p.m.
Testing is available to UCR employees and students as well as area residents. The location at 3443 Canyon Crest Drive near the UCR Baseball Complex in the northeast section of the city provides access to a mainly minority population that had been underserved.
In the first 12 days of operation, 6,324 tests were completed, according to UCR's Office of Emergency Management. An average of 527 tests per day are being completed with 859 on the busiest day.
Demand has been strong with appointments booking up quickly. Appointments can be made online with some same-day testing options available.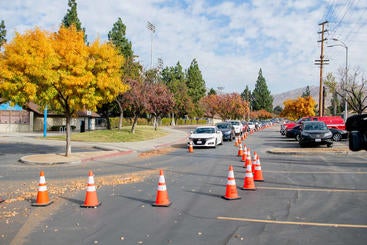 The testing program is a partnership between UCR and the city of Riverside, which has opened multiple locations in the city with Curative, which provides a Food and Drug Administration-authorized polymerase chain reaction test. The self-administered oral swab test is simple, noninvasive, and takes about a minute to perform. 
At a Dec. 17 press conference to mark the opening of the drive-thru testing site, Chancellor Kim A. Wilcox described the partnership as an example of the community coming together on behalf of all of Riverside.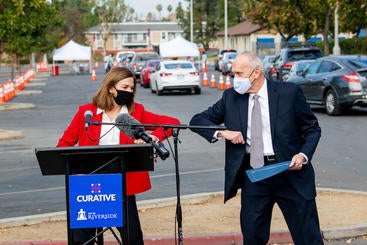 "One definition of the word community is a group of people with a common interest or purpose," he said. "I can think of no higher purpose than the health and safety of everybody in the community."
Riverside Mayor Patricia Lock-Dawson said the new site helps increase the city's testing capacity.
"We know that testing is the key to slowing the spread of COVID-19 in our community," she said.
UCR's Testing Committee, School of Medicine, and the Office of Emergency Management worked with the city to establish the drive-thru site.
More information, including an FAQ, is available here.