UC Riverside students, faculty, and staff members will see some changes in campus parking this fall.
A new parking structure and a switch from hang-tag parking permits to digital license plate recognition are among the biggest differences.
Here's what to expect related to parking and other transportation issues this fall.
Permit options
Transportation Services is offering a variety of permit options based on individual parking needs.
Starting June 1, permit holders were notified of the process for renewing annual permits that expire on June 30. Those wishing to renew their annual permit should do so by July 1.
Permit holders who don't want to renew yet can keep their lot assignments through January 2022.
For those working remotely or on a hybrid schedule, permits are available for purchase on an hourly, daily, weekly, or monthly schedule. Hourly and daily permits can be purchased through the ParkMobile app. A 10-pack of one-day permits, which expire June 30, 2022, will be available for sale starting July 1 for $43.
More information on the permit options is available here. 
Pricing for red, blue, and gold lots ranges from $11 to $15 for daily rates and $126 to $231 for quarter permits. Read here for more pricing information.
More parking space
A new 1,079-space, four-level parking structure will open in July. The Big Springs 2 facility is built on existing parking lot 13, which has also been improved as part of the project. When complete, the structure and surrounding space will provide 1,287 spaces — a net increase of 800 on campus.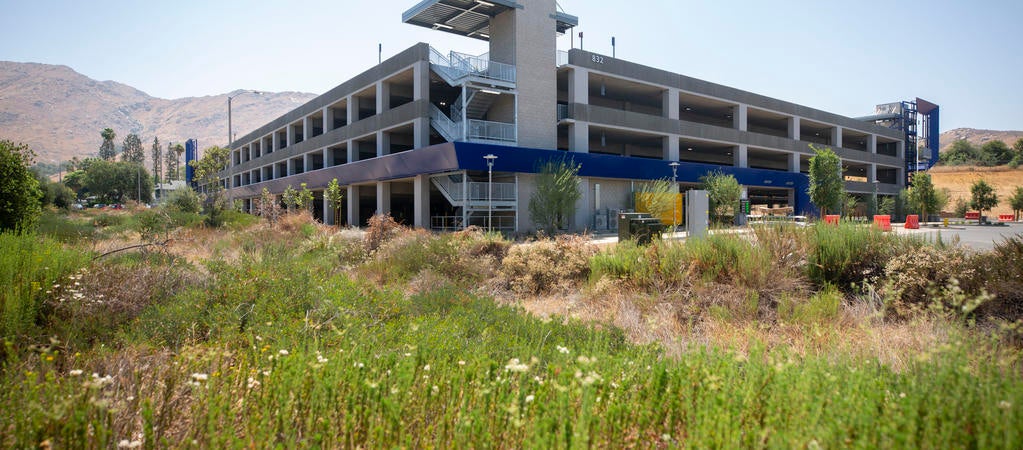 No more hang-tag permits
Starting July 1, Transportation Services is switching from physical permits to license plate recognition technology.
That means permit holders no longer must pick up new permits to display. Instead, vehicle license plate numbers will be linked to a virtual permit purchased online. Up to five vehicles can be linked to each permit, although only one can be parked on campus each day.
Parking enforcement vehicles will be equipped with cameras on each side that will allow them to quickly scan license plates and verify them through a database. 
A visual inspection of parking permits that took three hours can now be done in 30 minutes with both sides of an aisle scanned at speeds of up 10 miles per hour, said Andrew Stewart, associate director of field services for Transportation Services. "It just helps the officers be more efficient," he said.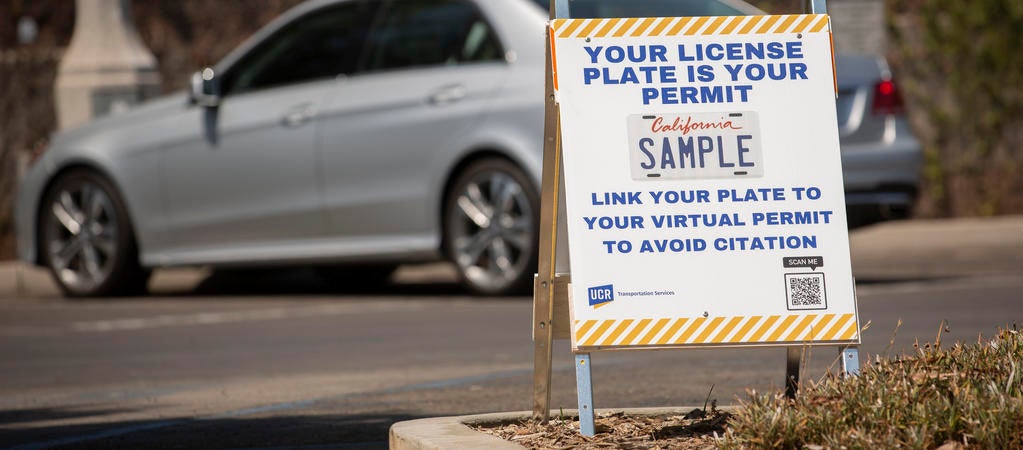 Updated signage and improvements
New signs installed in some lots include updated icons and details on services available and permits accepted in each lot. This includes which lots may be available to most permit holders after 6 p.m.
Other projects completed over the last year include changes to crosswalk design, improvements to passenger loading areas, and modernization and expansion of handicapped-accessible parking in lots 1 and 13.
Carpools and van pools
Carpool and vanpool services will return this fall, although the number of routes and vans will depend on demand, said Tara Elizabeth Pueschel, transportation demand management specialist with Transportation Services.
Transportation Services surveyed the campus community to see how many people are interested in the carpool and vanpool programs. So far, 70% of previous users have expressed interest, Pueschel said.
Public transit
Free mobile bus passes on Riverside Transit Agency routes are available to students, staff, and faculty members. Those interested using the transit system should register online with their NetID.