Focus groups led by University of California, Riverside, scientists that examined the healthcare experiences of transgender and gender-nonconforming, or TGNC, people living in California's Inland Empire have found that this community often encounters obstacles that are unique and not faced by most other patients.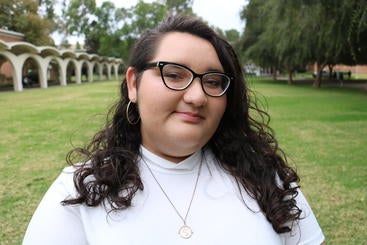 The 20 TGNC people — 13 male, three female, and four non-binary or gender non-conforming — who participated in the community-based participatory research through three focus groups reported a lack of cultural competency among providers, interpersonal barriers to healthcare, perceived systemic barriers to healthcare, and the effects of improper care on their health.
"There is a lack of research about TGNC patient healthcare experiences in the Inland Empire, especially qualitative research that collects stories or quotes from the community," said Angela Olivares, who graduated last year from UC Riverside with a bachelor's degree in biochemistry and is the corresponding author of the research paper that appears in the journal Transgender Health. "To improve TGNC patient care, participants recommended increasing representation of TGNC perspectives into provider trainings, involving providers in outreach with the TGNC community, and requiring letters of recommendation and certifications for providers to be deemed TGNC culturally competent."
Transgender people make up about 0.6% of the population in the United States. Approximately 27,000 TGNC individuals are estimated to be living in the Inland Empire. The researchers conducted the focus groups — two in the City of Riverside and one in the Coachella Valley — between November 2019 and March 2020.
The study found patient‒provider relationships were strained by providers' limited understanding of TGNC lives and misconceptions about the TGNC community. According to some participants, providers often conflated gender and sexuality, resulting at times in unnecessary and uncomfortable questions about TGNC patients' sexual behavior.
One participant shared: "I think that personal [and] upfront knowledge with trans people is so
vital and important for healthcare providers. Because if you never met a trans person, how can you provide healthcare for them?"
"Understanding TGNC patients' lived experiences and generating community-based recommendations can help providers gain knowledge on providing better care and redefine what it means to be a culturally competent provider," Olivares said.
The research was conducted in partnership with the Transgender Health and Wellness Center, a non-profit organization in Riverside serving the Inland Empire region by supporting TGNC people seeking healthcare services.
Olivares was joined in the study by Kodiak Ly, Brandon Brown, and Andrea Polonijo of UCR; Justino Flores of the California State University, San Diego; and Chris Christensen of the HIV & Aging Research Project in Palm Springs.
This research was funded by the UC Riverside Undergraduate Education Mini-Grant Program. Polonijo, who is now at UC Merced, received support from a UC Riverside Chancellor's Postdoctoral Fellowship.
The research paper is titled "A Qualitative Evaluation of Transgender and Gender Nonconforming Patients' Experiences in Southern California`s Inland Empire."