UC Riverside welcomed about 7,000 students into campus housing this weekend, returning to full capacity for the first time since the pandemic began.
Joined by family members, students wheeled blue carts stacked with belongings into their rooms, eager to return to campus life.
Ada Unol, a 20-year-old biology major, was only on campus for part of her freshmen year when she had to return home due to COVID-19. Now a junior, she's glad to continue her studies on campus.
"I'm happy," she said while moving into the North District Apartments. "I'm excited it will be back to normal life and I can see my friends."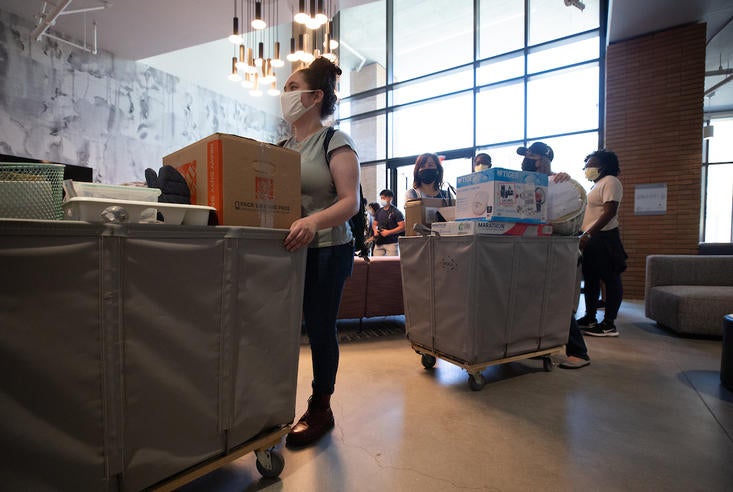 As part of the COVID-19 safety precautions, move-in was expanded to five days, beginning Thursday, Sept. 16 through Monday, Sept. 20.  Students were assigned check-in times to spread out the population.
Before moving in, students were required to submit proof of vaccination or receive an approved exemption. A negative COVID-19 test was also required within seven days of move-in, with another administered as students arrived for check-in at Lot 30.
Housing Services set up eight canopy tents at the east end of the parking lot, where students lined up for a self-administered COVID-19 saliva test overseen by Student Health Services.
Katherine Borkovich, professor of Microbiology and Plant Pathology and divisional dean of Life Sciences, who oversees the on-campus COVID-19 diagnostic lab, stopped by Friday morning to pick up vials to take to the lab's new location at Webber Hall. She estimated the expanded lab would process about 1,400 samples a day, providing results within 48 hours.
Once students turned in their test samples, they were directed to a separate housing check-in station at the south end of the lot. After their vaccination status was verified, students were given their keys and allowed up to two guests to accompany them to their residence hall or apartment.
Most students arrived by car but for those using public transit or a ride-share service, Housing Services provided a van ride to their housing.
Fadak Abdullah, 20, of San Jose, who arrived at Lot 30 with her parents and their pick-up truck filled with her belongings, said the trip and planning for move-in had been somewhat stressful. But she said she was glad for the health and safety precautions.
"I feel safer attending school knowing they're requiring vaccinations," she said.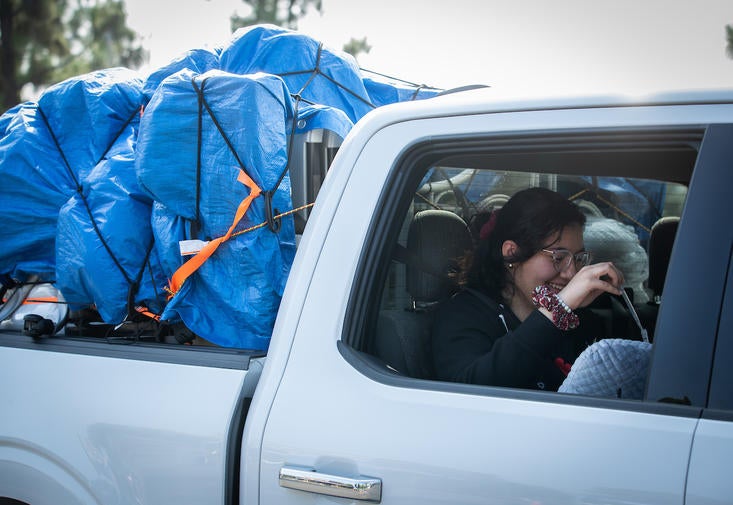 The system of having a centralized location where incoming students are processed and sent to their residence halls has worked well and may be adopted in future years, said Bob Brumbaugh, senior director of Housing Services.
Among students in campus housing, the vaccination rate is 98%, he said. Vaccinated, asymptomatic students will be tested one to two times per month while unvaccinated students are required to take weekly tests.
With the new North District Apartments that opened this month and Dundee Residence Hall last year, campus housing capacity has grown more than 35% since September 2019.
Marco Bravo of Walnut Creek, who dropped off his son Mark Bravo, a resident at North District, for move-in weekend, said he last visited the campus a decade ago and was impressed by how it has grown.
"I'm feeling so happy and comfortable my son is going here," he said.