UC Riverside has completed its 2021 Long Range Development Plan, or 2021 LRDP, a guiding document that will set the stage for the campus to grow student enrollment to 35,000 by 2035.
The plan, which was approved by the UC Regents on Nov. 18, also anticipates adding 5.5 million gross square feet in instructional and residential space to support the growth. Campus enrollment as of fall 2021 is 26,800.
The document, which each UC campus must update on a regular basis, does not plan for specific projects or map out when they will be built but forecasts anticipated growth and needs. It guides physical development through planning objectives and policies while addressing future land use designations.
"It helps streamline our approval for those future projects should the resources present themselves to become achievable," Campus Architect Jacqueline Norman said.
Other key elements of the plan include:
•    Increasing graduate student enrollment from 14% to 20% of the total enrollment
•    Expanding student housing by 7,500, with the goal of having 40% of students living in campus housing
•    Improving student to staff and faculty ratios to be closer to adjusted UC averages
•    Support for sustainable policies to achieve carbon neutrality by seeking high standards for new facilities and retrofitting existing ones
The Regents approval caps a nearly three-year process in which over 100 campus members in seven working groups participated in about 50 work sessions. The process also included several campus forums and an online survey of the campus community that garnered about 500 responses.
"The plan that came out of this process was a result of this participation and consensus-building across this broad cross-section of campus constituents," said Uma Ramasubramanian, principal physical planner.
A significant change as a result of the planning process is a prioritization of west campus land for agricultural research. The plan leaves all but about 19 acres of existing agricultural research land unchanged, with 419 acres remaining under that designation. UCR is also looking at purchasing additional properties for land-based research use.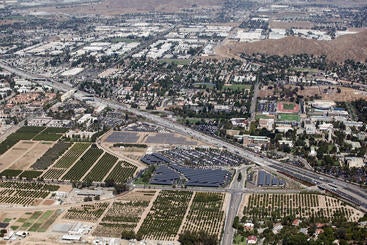 The majority of the projected campus growth is anticipated within the east campus area through greater development densities.
"UCR's presence in the research community has significantly grown in the last decade," Ramasubramanian said. "The 2021 LRDP addresses for the first time that research is expanding. It's a recognition that we have a research program, especially in agricultural sciences, that has grown to prominence."
The plan also commits to preserving the unique character of the campus core, Norman said.
"The campus core around the Carillon Mall has both historic and cultural value that is newly acknowledged in this LRDP as being a mid-century modern architectural neighborhood," she said.
Other features of the plan envision creating pedestrian-focused gateway environments at the Canyon Crest Drive and University Avenue corridors that promote mixed-use development such as housing and retail services. These are seen as the primary entryways to the campus where a diverse mix of uses can enhance the campus and community interaction and offer opportunities to dine, recreate, study, live, and work.
An environmental impact report was completed as part of the process that analyzed the potential environmental effects of the proposed 2021 LRDP. As part of the environmental analysis, mitigation measures were outlined in the Mitigation Monitoring and Reporting Program which UCR would incorporate, as necessary, during the plan implementation. 
Additionally, UCR is committed to environmental stewardship and to achieve carbon neutrality as required by the UC Policy on Sustainable Practices, said Stephanie Tang, campus environmental planner. Efforts include installing solar panels, building energy-efficient facilities such as the new School of Medicine Education Building II that is currently under construction, promoting policies that reduce water and energy use, and encouraging alternative transportation modes.
In the November presentation to the Regents, Chancellor Kim A. Wilcox noted community support from leaders such as Riverside Mayor Patricia Lock Dawson who see UCR as "an anchor institution for the region."
 "Together we aim to stimulate innovation and economic development as well as bring more high-paying jobs to the City of Riverside and the entire Inland Empire," he said.
At the meeting, UC Board of Regents Chair Cecilia Estolano praised the 2021 LRDP, saying it shows UCR to be the economic driver for good-paying jobs in the region.
"I love this plan," she said. "What I particularly appreciate about it is the development pattern you're adopting, compact development, really trying to develop a sense of community."