When Abhijit Ghosh teaches in the in-the-round lecture hall at UC Riverside's Student Success Center, he doesn't stand still.
With a microphone on his lapel and an iPad in hand that he uses to control the audio-video system, Ghosh walks the aisles of the 404-seat hall during his "Earthquake Country" course, in which he teaches the fundamentals of earthquakes.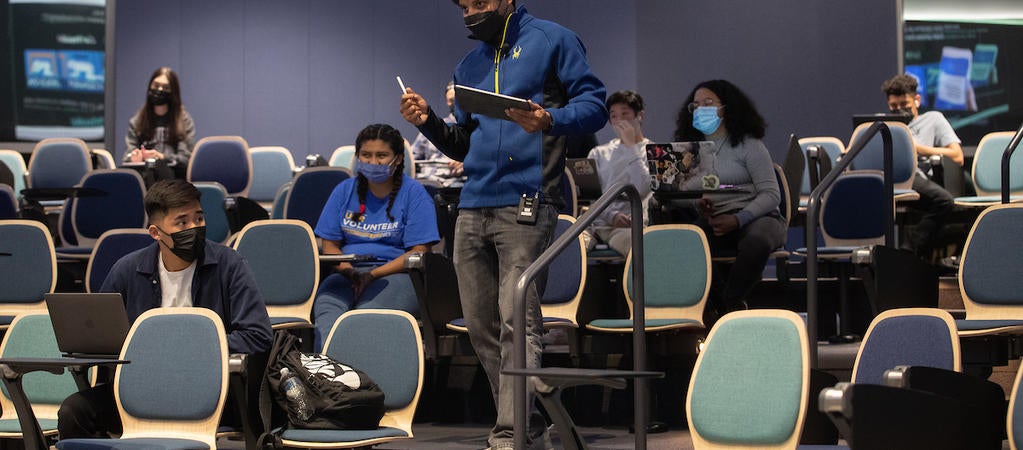 Ghosh, an associate professor of geophysics, is among the first lecturers to teach in the room, the first and only one of its kind on campus. He already likes it more than traditional lecture halls, saying he feels closer to his students and that they're asking more questions.
"It makes a conversational lecture much easier than before and interaction with students becomes much easier, and the result is a much more engaging experience for students," Ghosh said.
The circular design also means students are closer. The farthest seat is only eight rows from the center of the room.
The lecture hall is equipped with immersive video and audio equipment as part of the RISE Initiative that allows instructors to show video images close or far away. A giant circular screen offers multiple views of images from eight projectors.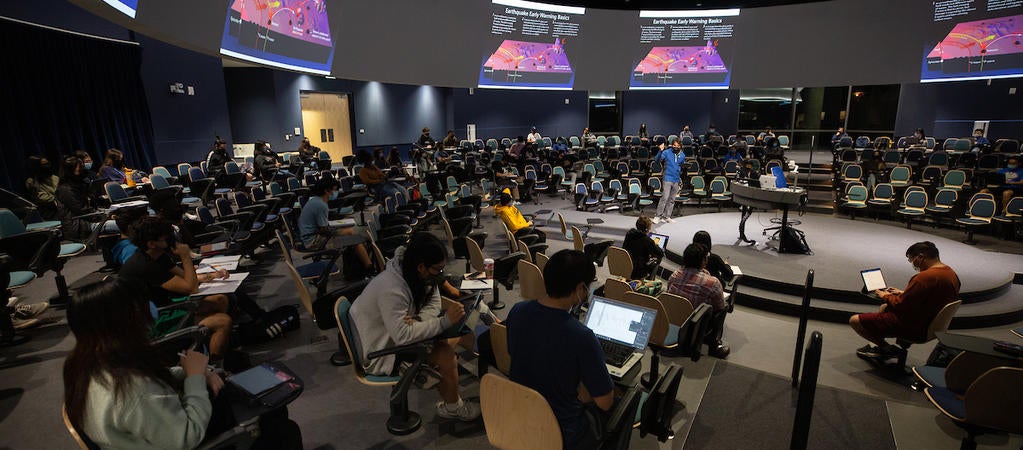 Ghosh uses them to display maps, graphics, photos, and even clips from the movie "San Andreas" for his introductory class on living in an area prone to earthquakes.
"It helps to have those screens," Ghosh said. "Students have a movie hall type of experience."
Physics professor Ward Beyermann was among a group of 20 UCR faculty members who visited Oregon State University a few years ago as plans for the Student Success Center were being developed. He and the other faculty members came back enthused from what they saw at the campus, which has three round lecture halls.
"I think it's great," said Beyermann, who is teaching an introductory physics course in the lecture hall. "I found it to be a rather immersive and engaging environment for the students."
The design of the room has also increased student interaction, he said. In most traditional lecture halls, students only see their neighbors on either side and the backs of the heads of those in front of them. Students now face each other in the new lecture hall and most have swivel chairs that turn all the way around. Beyermann said students more actively discuss topics.
"That peer interaction turns out to be a very effective pedagogical tool," he said.
During finals week, Beyermann surveyed his students – a third of whom responded -- about the new teaching environment and 87.5% said they preferred the round classroom over a conventional one. The rest were neutral.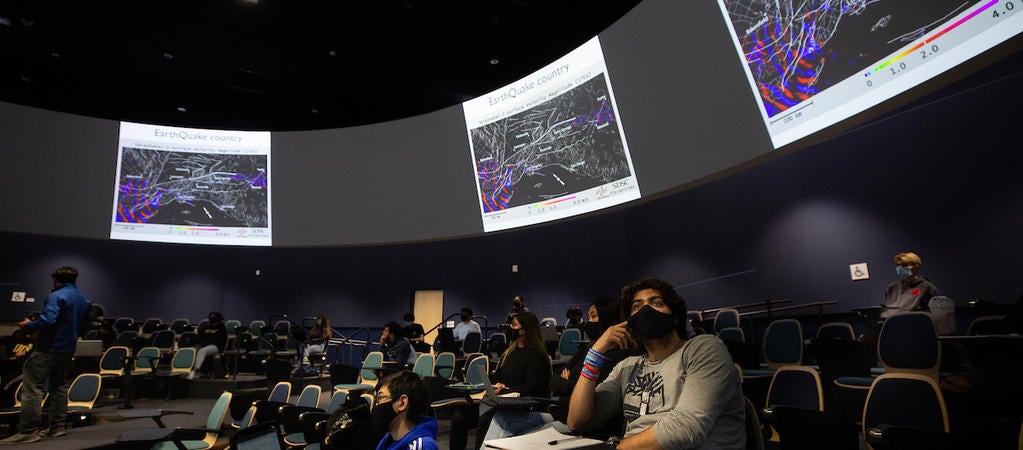 During an October online symposium, UCR's Exploration Center for Innovative Teaching and Engagement, or XCITE, invited faculty members from Oregon State University to provide tips on teaching in the round. The OSU faculty members described the same feeling of increased engagement and intimacy, and said they changed their teaching styles accordingly.
"Everybody is closer on the average than any other kind of room," said Goran Jovanovic, a professor of chemical engineering at OSU. "Students, because they were closer to us, felt more engaged. Nobody would doze off to sleep because we were always in eye contact."
Dwaine Plaza, an OSU professor of sociology, emphasized the importance of being prepared and comfortable in using the control panels, noting "you're running the whole show."
Bob Mason, a professor of integrative biology and vice provost for faculty development at OSU, said UCR improved on OSU by adding swivel seats.
"You guys at UCR did it right," Mason said. "We did want swivel seats."
Beyermann said he expects UCR instructors will also discover new ways to use the space as they get comfortable with it.
"There are probably new innovations waiting to happen," he said.