Two new dining facilities have opened on campus as UC Riverside Dining Services continues to expand its offerings.
The Market at North District, located in the new student housing complex that opened last fall, launched in April. Bytes café, which had been closed for over two years due to the pandemic, reopened the same month.
Dining Services has been rebuilding its workforce and reopening its facilities since last fall. Almost all dining venues are now open in some capacity except for Emmerbee's.
The Market at North District is in the outdoor mall between the two North District buildings and offers a variety of food, beverage, and convenience items.
"It's more catered to the residents," said Mary Ann Molina, the market manager.
To that end, the store sells a broader stock of goods than other campus convenience stores, including groceries and household supplies.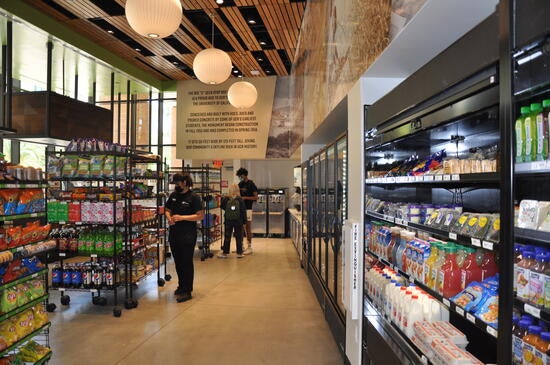 The store also features a station that will be used for serving hot entrees, coffee, boba, and a counter for ice cream that will open in the future, Molina said. Its hours are now 12 p.m. to 5 p.m. but the goal is to expand the hours as soon as possible, she said.
The reopening of Bytes, located at Winston Chung Hall, came in response to customer demand and was made possible by the continued rebuilding of dining staff, said Kourtney Gilbert, marketing and communications coordinator for Dining Services.
Bytes, which serves coffee, sandwiches, and snacks, is open Monday through Friday from 8 a.m. to 4 p.m.