UC Riverside's Facilities Services has launched a new request process for campus construction and maintenance requests that is aimed at increasing efficiency.
The change, which will be implemented over the coming months, affects how schools and colleges submit new faculty projects such as interior remodeling and other space adjustments.
Adam Schnirel, associate vice chancellor for Facilities Services, said the goal is to streamline the process to get more projects done sooner while allowing the department to focus on preventative and general maintenance work.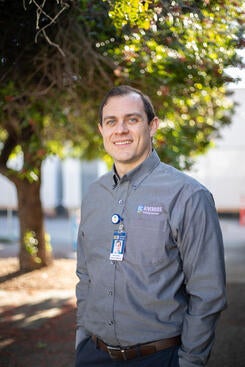 "We want to do the best we can to make it as nice as possible for faculty to do their research and teaching in the best environment," he said.
The department has a minor renovation request process for new faculty projects such as moving equipment into labs, remodeling offices, and adding electrical capacity. But it's since grown to accommodate other faculty projects, creating some delays. Under that process, requests were submitted by colleges and schools, which had to prioritize and limit the number of projects they could submit, Schnirel said.
The department receives about 125 requests, or $2 million worth of projects, a year but has the budget to handle $1.2 million, he said.
As part of the new process, a project management team will review and prioritize requests based on availability of resources, scheduling, and the complexity of the requests. A new form and submission process will be launched.
Schnirel, who marked his one-year anniversary at UCR in September, described it as part of a general shift by Facilities Services towards a proactive approach instead of simply reacting to needs.
"Facilities is best run where we can predict and prevent rather than chase and fix," he said.
Over the past year, Schnirel said he's been impressed with the caliber of employees in Facilities Services, describing them as focused on delivering the best services to the campus in the most sustainable way. 
He noted how the department had to adapt quickly during the pandemic, learning new cleaning and disinfection practices. Many employees were also among those who continued to work on campus while students and other employees were remote.
"I think people really stepped up in the department," Schnirel said.