The first baker usually arrives at 5 a.m. each morning at UC Riverside's Glasgow Residential Restaurant, switching on the ovens and preparing pastries, bagels, and other items for breakfast service.
It's only the start of the day for the bakery, which is staffed until 9 p.m., and produces thousands of freshly made baked goods each day ranging from cookies and cakes to bagels and donuts.
In addition to serving about 5,000 diners who eat daily at Glasgow, the bakery staff also makes desserts and other items for the Lothian Residential Restaurant, other campus cafes such as Ivan's and Bytes, and about seven catered events a day on campus. They typically go through about 1,300 eggs a week along with 200 pounds of sugar and 300 pounds of flour.
Soon the bakery will be expanding even more, packaging cookies and donuts under the "Sweet Tooth" label to be sold at campus cafes and Scotty stores.
It's a sizable step up from only a few years ago, when Dining Services had only two bakers working in a 435-square-foot space of the kitchen at the old Aberdeen-Inverness restaurant.
"To see where we started and where we are now, it's amazing," said Allison Eagan, a 15-year Dining Services employee and assistant bakery manager who oversees the operation. "I'm really proud of our team."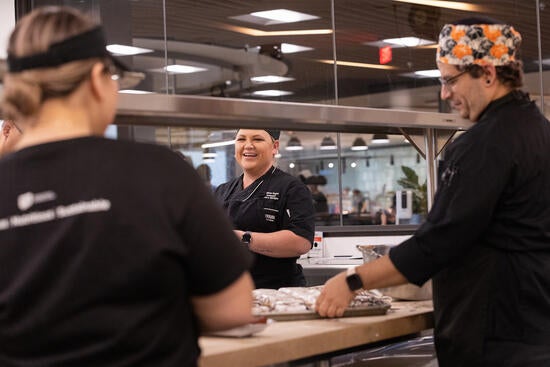 The bakery's staff includes a senior baker who assists Eagan, three bakers, and a dozen student employees. They work staggered shifts, with each baker responsible for a specific meal service. 
At Glasgow, which opened in fall 2020, the bakery has its own spacious kitchen with three countertop tables, five ovens, a walk-in freezer, and a storage area.
More than three times the size of the old Aberdeen-Inverness space, the 1,395-square-foot bakery has been able to expand the amount of food it produces and offer more variety.
"Over there (at Aberdeen-Inverness) it was a lot more basic," said Thomas Alexandre '16, one of the bakers and a former student employee. "Here it's a lot more elevated."
A notable feature of the kitchen is that it's an exhibition bakery with large, open windows through which diners can watch the bakers at work. The bakers sometimes work at the counter next to the window, attracting onlookers as they decorate cookies or glaze donuts.
"We'll get people who stand here and ask `When is that going to be available?'" Eagan said.
Baked goods and Jell-O cups are placed in four glass cases with three rows of trays in the dining area where diners select their dessert. Another case usually features a hot dessert.
Eagan said the bakery changes its menu regularly to provide diners variety, making different kinds of cookies, Jell-O, puddings, cakes, bars, croissants, muffins, donuts, and other treats, including vegan and non-gluten choices. There are certain regular customer favorites like cookies, with about 2,400 made daily. 
The bakery highlights different specialties for each season. Fall features more pies, while in the winter the bakers try out cobblers. In the spring and summer, they bring out key lime and citrus desserts.
Summer is when the bakers usually try out new recipes. This past summer, they tried 45 different recipes including a vegan monkey bread, Eagan said.
The bakery has also sought to incorporate different cultures and foods in its offerings. For instance, baker Martha Esquivel, who has been with Dining Services for 24 years, introduced Mexican sweet breads to the menu.
Esquivel, who works the early-morning shift, was inspired to become a baker by her grandfather, who worked in a bakery in Mexico, where she grew up.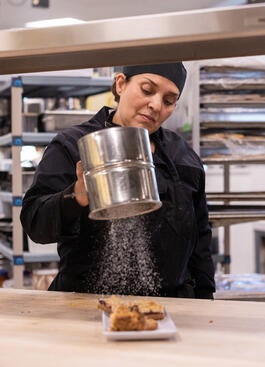 "I love baking," Esquivel said. "I like to challenge myself and try new things. It's very fun."
Each baker brings a different specialty to the bakery, Eagan said. For instance, Esquivel is skilled at decorating desserts. Alexandre, who previously worked at Panera Bread, is the experienced bread maker. 
Baker Kristy Kelly began her career working at Albertson's before attending Le Cordon Bleu. She loves the creativity of decorating cookies and cakes.
"The way people's faces light up when they see and taste the amazing desserts I've created is what fuels my passion in this field," she said.
Gabriela Gomez, who as senior baker assists Eagan in managing the bakery, took up baking after making birthday cakes for her nephews. She's been working for 14 years at universities, with UCR the largest.
"I love the challenges that come with the territory," she said.
Eagan's interest in baking began with a job as a cake decorator at Baskin Robbins when she was 18. She later went on to graduate from Le Cordon Bleu culinary college with a degree in baking and pastries. 
She particularly enjoys decorating desserts with garnishes and chocolate. Part of the fun is the presentation of desserts, with colors and flavors as enticing to the eyes as the palate, she said.
"I really love making things," Eagan said. "When I make something and people enjoy it, it makes me happy, too." 
The Glasgow and Lothian Residential Restaurants are open to meal-plan holders in the student residence hall. Glasgow welcomes non-meal-plan holders for lunch. Dining Services also offers a Community Dining Plan for all meals that is available to all students, faculty, and staff. For more information, including menus, check the Dining Services website.