In early December, construction crews began work on repairs to the Performance Lab,  which houses a theater in the center of the building and is next to the stairs that face out to the Arts Walk area.
Crews, who installed fencing and scaffolding around the building, have already completed the installation of a new roof, replacing one that had become leaky, said Tameesha Hayes, a project manager with the Office of Planning, Design, and Construction.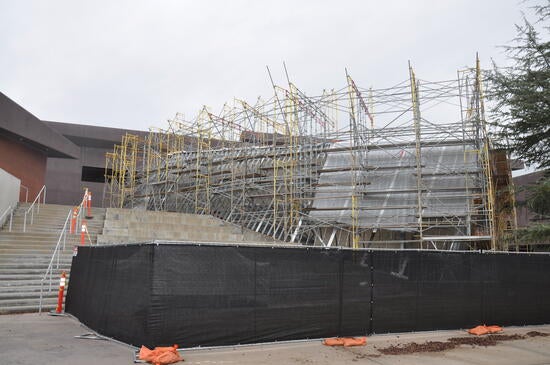 Built in 2004, the Arts Building stands out due to its angular design and prominent location near the campus entrance.
"It's a cool building but it was definitely in need of a facelift," Hayes said.
In addition to a leaky roof, the building's exterior walls had cracks and damage from leaking water that had gotten into the angled walls' framing. The paint on the walls had also begun to fade from harsh sunlight, especially on the side facing south.
The new roof includes a parapet intended to reduce future water damage. New stucco and sheathing will be added to the walls in the coming weeks to improve the façade's luster.
All the work is confined to the exterior of the building. The repairs are expected to be completed by February, weather permitting, Hayes said.