UC Riverside has a new dining option at the HUB with the grand opening of the Halal Shack.
The restaurant, which opened on campus Thursday, Jan. 12, is the first campus venue to feature an entirely halal menu. Inspired by New York City street food, the restaurant offers Middle Eastern and Mediterranean flavors and spices with American-style fusion.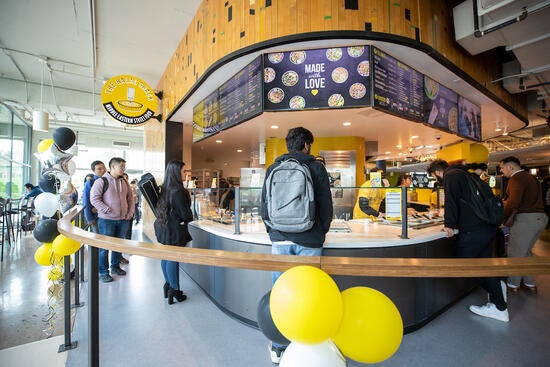 The addition of Halal Shack increases the diversity of food offerings on campus and responds to requests for increased halal food options for Muslim students, said Kourtney Gilbert, marketing and communications coordinator for Dining and Hospitality Services.
"Everyone's really excited to have something new on campus," she said. "It provides a different dining option with more vegetarian and healthy choices."
Halal Shack features a build-your-own meal concept where diners can choose from rice, salad, zucchini noodles, or french fries to create a bowl. Diners can add chicken, beef, falafel, chickpea korma (an Afghan dish), or the plant-based Impossible meat substitution. A variety of special sauces top off the bowl.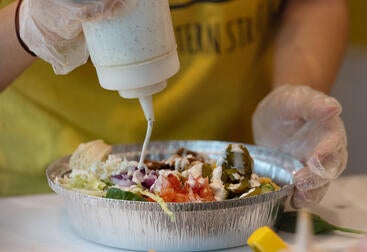 Gilbert said the new restaurant adds to the variety at the HUB, which already includes eateries that serve Chinese, Japanese, and Mexican food, along with restaurants offering sandwiches and burgers. 
In recent years, Dining Services has added halal food options at the Glasgow Residential Restaurant and the Barn.
Omar Aziz, director of the Middle Eastern Student Center, said the group has been advocating for more inclusive dining options and more halal food choices. A significant number of its members are Muslim and choose to only eat halal food, he said.
Halal refers to meats and food sourced and prepared following Islamic dietary guidelines and is similar to how kosher food follows Jewish dietary rules.
Although the campus has some halal options, Aziz said it means a lot to students to know they can order anything off the menu at the Halal Shack.
"It's really important and great for our community and our students that they can go right in, no questions asked, and know the food is going to be accommodating and serve them," he said.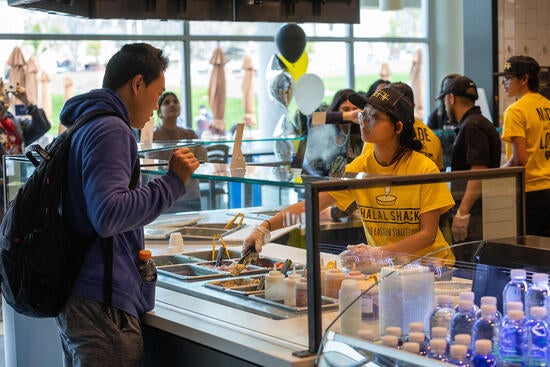 The idea to bring Halal Shack to campus started as early as 2018 when members of the Middle Eastern Student Center met Halal Shack CEO Jamal Rasoully at a New York conference and put him in touch with Dining Services, Aziz said.
Those discussions were delayed due to the pandemic when the chain had to temporarily shut down its restaurants as many campuses closed and shifted to remote learning, Rasoully said. But he said he's glad to be at UCR now and looks forward to being part of the community.
Rasoully opened his first Halal Shack at his alma mater SUNY Albany in 2017 and now has more than a dozen locations open at college campuses across the country. He expects to have 40 open by the end of this year.
The concept grew from wanting to provide quick, healthy food options that reflect a desire for a diversity of cuisines on college campuses, Rasoully said. An Afghan American born of immigrant parents, he said he immediately felt at home with UCR's diverse campus.
"I felt an affinity to the university," he said. "I fell in love the first time I came."
Halal Shack is open Monday through Thursday 11 a.m. to 6 p.m. and Friday 11 a.m. to 5 p.m. Find out more about the restaurant and other campus dining options at the Dining Services website.