Emerbee's is back in business serving honey-infused drinks and sandwiches to hungry Highlanders.
The 600-square-foot café near the center of UC Riverside opened in September of 2019 but had been closed since March 2020 when pandemic-related shutdowns began.
Emerbee's began serving customers again in early April as part of a soft launch that included social media postings and signs alerting customers. 
Dining Services has been steadily rebuilding its workforce and reopening all of its dining venues over the past two years. With the reopening of Emerbee's, all three campus coffee shops are now operating.
Jonathan Fonseca, manager of Emerbee's, described the response from customers as "happy surprise." Its customers included fourth-year students who remembered it from their first year as students and newcomers happy to have a convenient spot to eat nearby.
"The response from the campus so far has been really good," Fonseca said. "People are excited we're back open."
Located in a lower courtyard next to its namesake, the Multidisciplinary Research Building, or MRB, the café is a partnership between Dining Services and the entomology department's Center for Integrative Bee Research, or CIBER). 
Its menu includes sandwiches, mac and cheese, noodle salad, and signature drinks infused with orange blossom honey produced in CIBER beehives on campus such as a honey cinnamon latte. It also serves Starbucks brand drinks.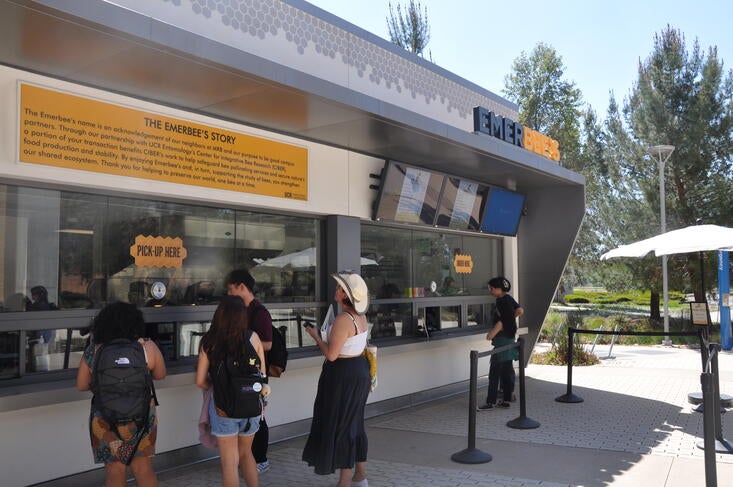 Fonseca said the café will start off with a limited menu featuring old favorites and new limited time offerings that will expand through the fall. He said customers are happy to see items like the garlic cheese bread available again, which sold out one day.
"We're taking the opportunity to bring some classics as well as innovate and introduce new items," he said.
Emerbee's is open Monday through Friday, 10 a.m. to 4 p.m.
Fonseca said the café hopes to eventually expand its hours, catering to the needs of students and employees at the MRB and the nearby Materials Science and Engineering Building. 
Find out more about Emerbee's hours and menu at the Dining Services website.