At the top floor of UC Riverside's new Plant Research 1 building, geneticist Julia Bailey-Serres is testing how to grow rice to withstand drought and flooding conditions in countries like India. In the laboratory next to her, researcher Bao-Lam Huynh is growing new varieties of cowpea plants that will be sent to Africa.
Their work takes advantage of the new technology available to researchers at the 30,000-square-foot, two-story facility at the west end of campus. The College of Natural and Agricultural Sciences held a ribbon-cutting ceremony Friday, May 5 to celebrate its opening.
The concrete, glass, and steel building is the first new plant research facility constructed on campus in about 40 years and features new state-of-the-art technology. The new building replaced an older greenhouse made of wooden slats on the one-acre site.
CNAS Dean Kathryn Uhrich said the facility achieves the college's goals of furthering sustainability, inclusivity, and excellence. 
"After many years of planning, wishing, and waiting it's finally here and I am thrilled," she said.
The top floor includes 16 greenhouse modules that can be programmed to control humidity, temperature, lighting, and other conditions. The settings can be controlled and monitored via wireless technology.
The modules are made of high-tech double-layered polarized clear glass panes with automated shade cloth that increase the efficiency of cooling and heating. Each module has vents that can be opened and closed and are screened to maintain a clean environment. Each module has air conditioning for specialized environments as well as an evaporative cooling system that allows for consistently lower temperatures than any other campus greenhouse.
"This greenhouse gives us a much higher control in terms of temperature, humidity, and light," said Bailey-Serres, a distinguished professor of genetics and director of the Center for Plant Cell Biology. "We have this incredible ability to grow all year round."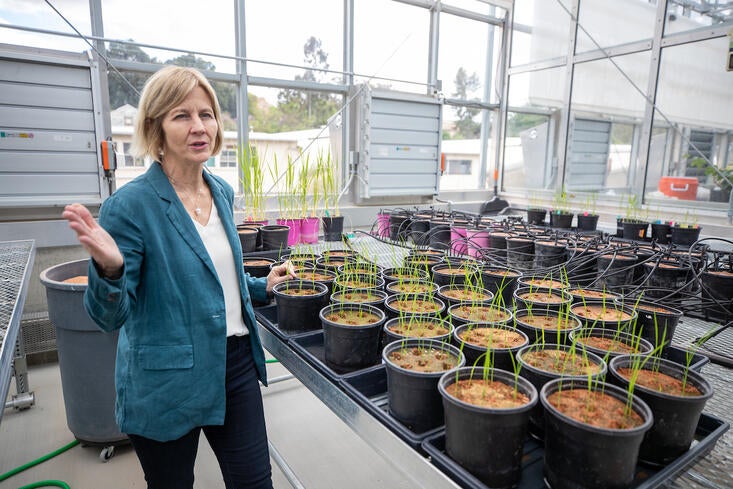 Her team of 10 undergraduates, graduate students, and post-doctoral researchers began moving into the new laboratory space last summer where they're better able to conduct research into how rice plants deal with extreme flooding and drought.
Construction of the new building was completed in fall 2021 with extensive testing of the control systems following before researchers began moving into the facility in stages.
"It takes time to tune a greenhouse," Bailey-Serres said.
A final three-month process of rigorous testing of the cooling and heating systems, fans, and water pumps was completed before the final group of researchers began moving in earlier this year, said Hung Lai, greenhouse manager for Agricultural Operations.
Huynh, an associate professional researcher, moved into his lab in the corner module of the building a few weeks ago, with the space now filled with rows of cowpea plants. His research team is breeding new varieties of cowpea grain and long bean vegetables that are sent to Africa for testing. 
"We can mimic any condition we want," Huynh said of the new technology at Plant Research 1.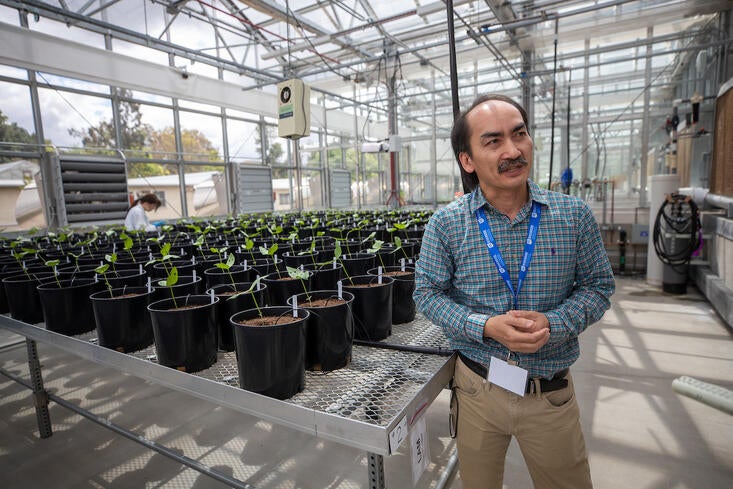 The facility's first floor includes a large workroom for potting plants and wash basins for cleaning. A separate large room is used to store growth chambers, which allows for growing plants in a small, precisely controlled environment.
With its clear glass frame and the Box Springs Mountains in the background, the facility has already stood out on campus. The outside area features a desert landscape look with cacti, rocks, and daisies. 
The new facility also includes an easier connection to the UCR Botanic Gardens. Behind its parking lot over a short hillside trail a new stairwell was completed earlier this year, making it easier to access the gardens from the west side of campus.