UC Riverside's School of Medicine is celebrating a major milestone with the completion of a new instructional and administrative building that will allow it to increase enrollment.
Following two years of construction, the School of Medicine Education Building II is opening this fall, just as the school celebrates its 10th anniversary. A ribbon-cutting ceremony for the $100 million project will be held Tuesday, Sept. 26.
The five-story building, located next to the existing SOM Education Building, has 56,500 usable square feet within 95,476 gross square feet. The concrete and brick structure features metal panels and a glass wall that allows for natural lighting throughout the building. 
It's the school's largest expansion since it opened in 2013 and the first building designed specifically for its needs, with state-of-the-art facilities that support modern medical education.
"This building will provide the much-needed space for our medical students, faculty and staff, and it provides a path for the expansion of our medical school class," said Dr. Deborah Deas, vice chancellor of health sciences and the Mark and Pam Rubin Dean of the UCR School of Medicine. 
The increased space will increase class size capacity to 125 students, helping to meet the region's demand for more physicians. It features administrative offices, lecture halls, classrooms, study space, student lounges, and other support space. The spaces are arranged by activity type, with student and instructional spaces on the first three floors and administrative offices on the top floors.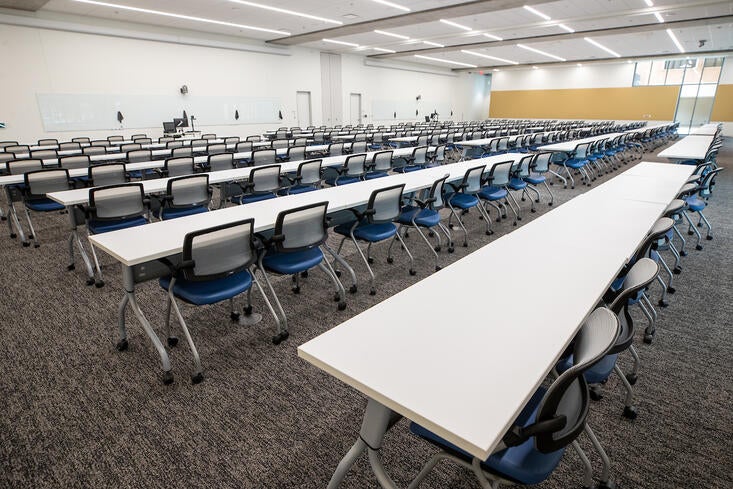 The first floor includes two 3,500-square-foot lecture halls that can each seat 140 and be combined into one large gathering space. Its glass doors open into the lobby and outdoor courtyard plaza, which features seating and landscaping that complements existing nearby buildings.
The expanded space can be used for large events in the plaza, such as the school's annual White Coat ceremony, said Cynthia Carolina, director of facilities and operations for the SOM.
The instructional spaces include audio and video technology that allow for enhanced learning. The Active Learning Center, a classroom space that seats 80 students, can be configured for group lessons at each table or a full lecture setting. Each table is equipped with a monitor that can be raised and a dock for laptops. 
A 140-seat lecture hall on the second floor has tiered levels that allow students to interact with each other, two projection screens, and a large projection area on the wall. Sixteen rooms provide smaller group instructional spaces.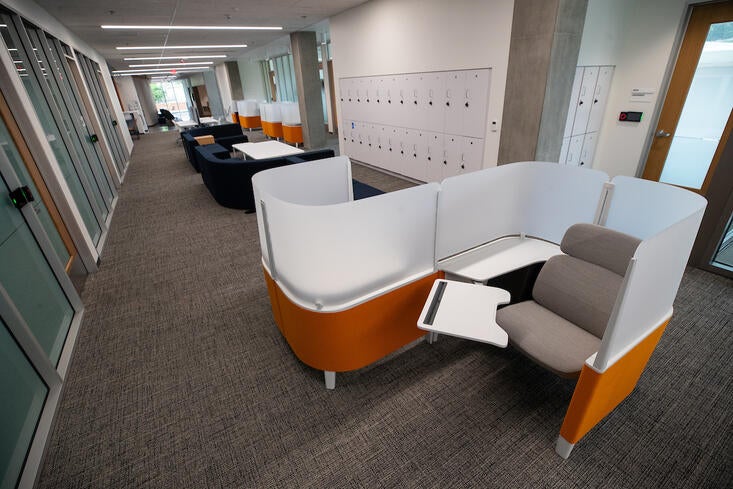 The new building includes a major increase in student space from the existing education building, which has limited study areas. The second and third floors feature a variety of study options including individual pods, casual seating, stools and counter tables, and study rooms. 
Student lounges offer a place to take a break with kitchenettes, TVs, couches, and even a ping-pong table. Each floor also has outdoor patio balconies with casual seating. The building is designed for the specific needs of medical students, with amenities such as a shower area and 236 lockers.
"Students have been bursting at the seams to have more space," Carolina said. "Now that they have something to call their own it's going to be amazing for them."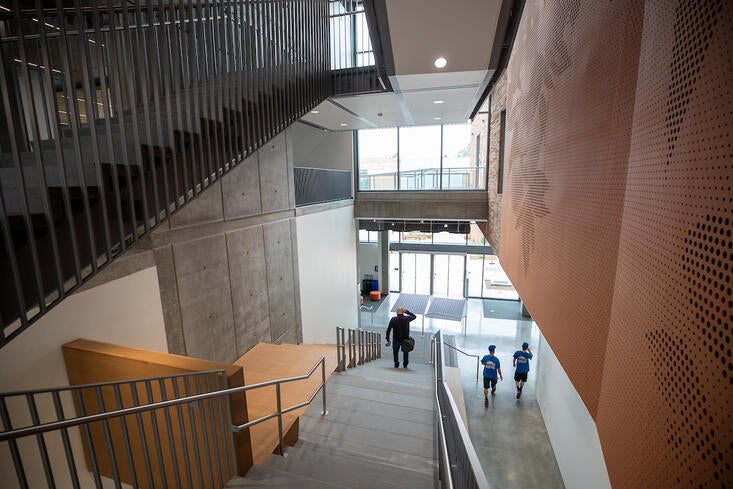 From the large lobby to a major staircase in the center of the building that includes wooden stadium-style seating alongside it, the building is designed to encourage collaboration and create a strong school community, said James Simeo, principal of CO Architects, which designed the building.
"The architecture of the building is intrinsically linked to the visions and the goals of the School of Medicine to create open and transparent spaces to demystify medical education," he said.
The building has a 200-kilowatt solar array on the roof and is LEED Platinum-certified, meeting leading industry standards for energy efficiency and sustainability, said Sarah Sabera-Turab, project manager with the Office of Planning, Design, and Construction.
Students can begin using the study spaces after the ribbon cutting on Sept. 26 while staff will be fully moved in by Oct. 6, Carolina said. Instructional classes in the building will start in October after finals.