Irma Andrade, a senior custodian with UC Riverside's Facilities Services, has been honored by an industry magazine as an exceptional employee with an attention to detail.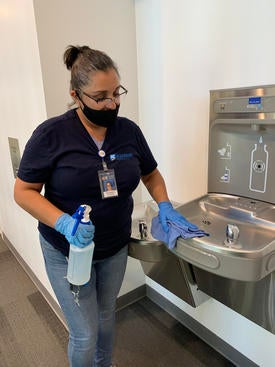 Andrade was featured as one of the "Faces of the Frontline" in a recent issue of Clean Link, an online site which covers the cleaning industry. The article describes how she's taken the initiative to optimize cleaning of campus buildings. 
"I feel honored and blessed to have been chosen out of many outstanding colleges," Andrade said. "I'm looking forward to many more productive years."
Initially hired as a temporary employee, Andrade has been working on campus for 3 ½ years.
The article notes that, when assigned a new building, Andrade would conduct a walkthrough and identify the cleaning needs of each room, working closely with her supervisor, fellow custodians, and building occupants.
"She also made it a point to communicate with the building occupants to provide immediate solutions to any of their concerns," says Aaron Uresti, assistant director of custodial and housekeeping services for Facilities Services. "Her proactive nature and outstanding customer service increased the quality and standard of cleanliness in a very short amount of time."
Uresti said Andrade has been eager to learn new skills. In addition to floor cleaning, Andrade also performs floor stripping, waxing, and carpet deep cleaning.
"Irma is an exceptional employee and I'm thrilled that she is being recognized for the work that she does," said Rey Varela, a custodial supervisor who nominated Andrade for the recognition.
She is the second department employee to be honored by the publication in the past year. Senior custodian Vicky Virgen was recognized last year for leading a comprehensive cleaning plan in response to COVID-19.