UC Riverside's Student Success Center has won an award for its design from a national industry group.
The Design Build Institute of America recognized the new campus building as part of its annual National Project/Team awards announced this month. A panel of industry experts selected the top 30 projects in 10 categories that represent the best in design-build.
The Student Success Center, which was completed last fall, won in the educational facilities category in the Western regional division of the Design Build Institute of America. As one of the Merit Award winners it will go on to compete for National Award of Excellence and Project of the Year at the group's Design-Build Conference and Expo in November.
The three-story, 62,000-square-foot building includes a mix of classrooms, small- to large-sized lecture halls, multipurpose rooms, student study areas, meeting rooms, and a student lounge. It also features the campus' first in-the-round lecture hall, which seats 400.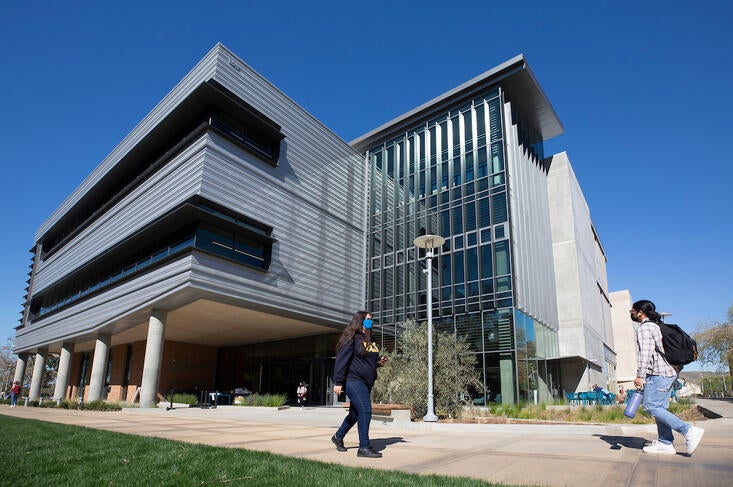 "As the first new classroom building constructed on campus in many decades, the Student Success Center is a transformative project," said Jacqueline Norman, campus architect. "Truly a student-focused and flexible building, it is a beautiful and functional home base for students during their days on campus."
In the awards announcement, the Design Build Institute of America notes how the building serves as a prominent gateway at two key campus areas — the Carillon and Arts malls — and that the university's goal was "to provide students with a warm and inviting place to learn, study and socialize."
"This project has achieved the university's vision to enhance students' daily experience throughout their entire education experience — from their first visit to campus to graduation day," the group stated.
The project was overseen by UCR's Office of Planning, Design and Construction. The construction firm Swinerton built the project and the architecture firm Gensler completed the design.