Executive Chef Burke Reeves prepared for this month's National Association of College and University Food Services' Culinary Challenge by committing to a strict training regimen: oyster shucking.
Reeves and his five opponents faced off against one another and a ticking clock at the July 11 event to prepare an entrée featuring the mandatory combination of Little Neck clams, whole squid, and oysters.
The catch, no pun intended, was that none of the contestants knew what type of oysters they'd be using until they got there.
"I learned from shucking the craziest oysters," said Reeves, who practiced with more than a dozen East Coast varieties in preparation for the Rhode Island-based competition at which he won the gold medal for his Japanese-inspired dish and precision in the kitchen.
"It was an eccentric, artistic, mystic vision that just kind of popped in my head," said Reeves of his winning dish, "Ocean's Garden," which featured a bed of clams in a matcha green tea miso broth and sweet Thai chili ponzu oyster shooters served on pink salt crystals. Rounding out the plate were spicy squid, kombu, togarashi fried egg and vegetable sauté flavored with "sea grapes," an algae common in Vietnamese and Japanese cuisine.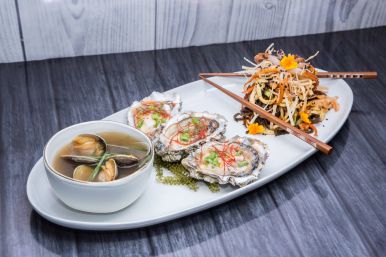 The finishing touch was a glass smoke dome, an ornamental yet practical flourish responsible for keeping the clams moist and giving the dish a hint of hickory flavor.
"I was swept up in the drama of the finishing seconds as Chef Burke applied his smoke gun to his broth, which could only be done seconds before his time was up," said Andy Plumley, assistant vice chancellor of auxiliary services, who accompanied Reeves to the competition. "I had never seen Chef Burke exhibit the level of concentration as he cooked, but his personality shined through as he engaged with the judges, the commentator, and the audience," Plumley said.
Reeves attributes his showmanship to earlier careers in both music and soccer. These days, he likes to bring that personality into the kitchen, where you'll often hear him singing. The technique served him well in the heat of the competition, where Reeves said he was able to offset nerves with excitement and flair. A signature move? Flipping pans.
"I love what I do, and that really showed at the competition," he said.
Competitors were judged throughout the dish's execution, including a 30-minute prep period, 60 minutes of cooking, 10 minutes of plating, and five minutes to clean and exit their stations.
Conservation mattered, and Reeves said he kept his oyster shells, which can be used as an all-purpose compost additive when ground into powder. No vegetable peels were left behind, either.
"Everything was used for something … that's a key part of dining. It's good to get that message out and to really represent UC Riverside," Reeves said, adding that UCR is working on getting its Green Restaurant certification.
UCR won its first regional conference culinary competition back in March when Reeves won gold at the Pacific & Continental Regional National Association of College and University Food Services Conference in Salt Lake City.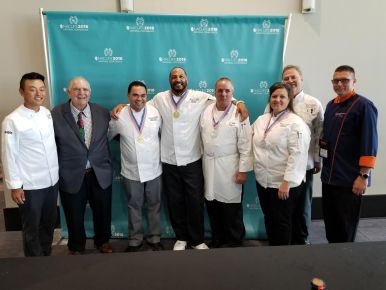 Beating out 15 chefs, Reeves secured his place among his five national opponents for the Rhode Island competition, all of whom were scored on a point system for the spot of finalist. Chef Humberto Espinal of Yale University also took home a gold medal, while the remaining three chefs received silvers.
While Reeves is enthusiastic about competing more in the future, he also has big responsibilities at UCR, where his staff are constantly pushing the boundaries of a traditional university kitchen, and having a lot of fun doing it.
"This day and age, it's all about being great coaches, leaders, mentors, and it's about people," said Reeves, who doesn't believe in throwing things or yelling in his kitchen like some of the chefs he learned from, though he acknowledged they gave him a thick skin.
But that's not the way Reeves chooses to run things.
"My number one rule is you have to care," Reeves said of his kitchen. "I love being a chef, and I'm very passionate about not only my food, but the presentation, how it's handled, and how it looks. I am really trying to teach our other chefs that."
Reeves was assisted at the competition by Charles Johnson, a UCR culinary manager and former silver medalist of the national competition. Also representing UCR in Rhode Island was David Henry, executive director of Dining, Hospitality and Retail Services, and Plumley.
"It was definitely a proud day for UCR," Plumley said.