The first signs of UC Riverside's latest construction project have arrived with fencing placed around much of the main lawn area last month.
Site preparation work for the Student Success Center is scheduled for later this month with major construction to follow early next year. 
Although the three-story building will occupy only a 0.8-acre lawn area south of the CHASS Interdisciplinary building, additional space was needed to accommodate trailers and construction equipment, including large cranes, said Blythe Wilson, co-director of project management for the Office of Planning, Design, and Construction.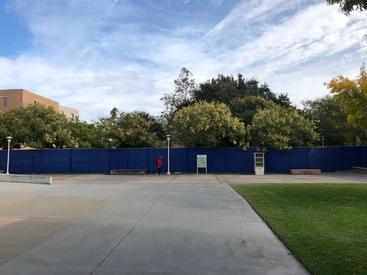 The area will remain closed off through August 2021, when construction is expected to be completed.
Directional signs have been posted on the fencing to help the campus community find their way around.
Another new construction project that will soon be underway is a parking structure in Lot 13, which will be partially closed at times. Work is scheduled to begin in January and expected to take a year to complete. 
The new four-floor structure will create a net increase of 800 new spaces.
Meanwhile, several projects are continuing on schedule and making progress.
The pathway between the Arts and CHASS Interdisciplinary buildings will soon be reopen with work nearing completion on a new arts sculpture. The furniture, plants, and signage for the project will be installed over the next few weeks.
The Barn renovations are also almost complete with a grand opening expected in February.
Work continues on the North District, Dundee-Glasgow, Pierce Hall, and Plant Growths Environment facility projects with no additional impacts beyond the existing closures.