As UC Riverside's executive chef, Lanette Dickerson decides what many members of the campus community eat on a daily basis.
Dickerson, who has had a life-long passion for cooking, says she appreciates that UCR affords her the chance to make a variety of cuisines, including American, Thai, and Indian, to name some of her favorites. Working on a campus with agricultural operations allows for unique opportunities, she said, such as incorporating citrus into menu items or working with beekeepers to utilize honey. 
Her duties can vary. On a recent day, her schedule included a stop at Emerbee's for a photo shoot of new menu items, some time in her office at Aberdeen-Inverness Residence Hall, and a meeting with culinary staff to fine-tune menus for the upcoming reopening of the Barn.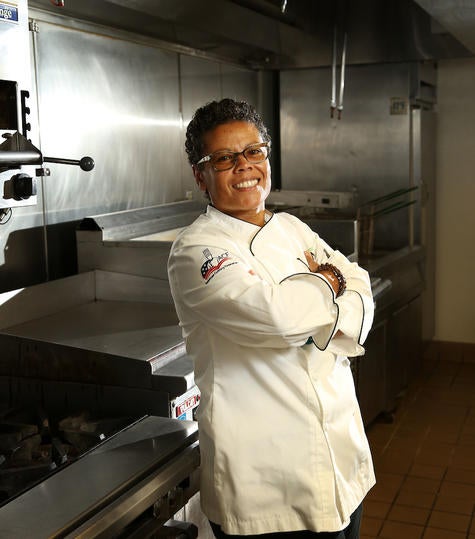 Name: Lanette Dickerson
Title: Executive chef
What does a typical day at work entail? "I'll usually try to pick a few days of the week where I visit different facilities, different restaurants, and talk to the managers and chefs to see how things are going and how I can support them."
What motivated you to become a chef? "I guess I'm fortunate I come from a family on my mother's side, and mostly (on my) father's side, of cooks. My father and all my uncles are really good cooks, and they really enjoy it. We took turns making dinner for our family. I guess from there I saw the passion and felt the love for how it brought people together. I knew when I was in high school I wanted to be a chef."
What do you enjoy about working at UCR? "I love the sense of community. We're a big school but not overly large. I've been here for 22 years, and a lot of our staff has been here for at least 10-plus years. It's a nice tight-knit family. It's nice coming to a place that feels like home."
Do you have a favorite dish to cook or eat? "It's probably Thai food. I really enjoy Thai curries. I enjoy Indian food as well. There's something about having to go on a hunt for the ingredients. You have to go to specialty stores and find this specific item. It becomes this planned all-day thing. You're living the meal; you're creating the experience."
What do you do in your spare time? "I put puzzles together. I like working with my hands. I like to build things. I built a garden. I love fishing. I grew up fishing and camping."
What inspires you? "The students inspire me. What dining does, our supporting role on campus inspires me. And it's evolved over the years. I enjoy being able to make the students feel at home, provide them with food that reminds them of being home, help them not miss home so much, and provide them with a nutritious meal."