UCR author Allison Hedge Coke has been awarded the 2021 George Garrett Award for Outstanding Community Service in Literature by the Association of Writers & Writing Programs, or AWP. It was presented virtually on March 3 during opening celebrations of this year's annual AWP Conference & Bookfair.
Named after the late George Garrett, a former poet laureate of Virginia and one of AWP's founding board members, the prize recognizes individuals who have made notable donations of care, time, labor, and money to support writers and their literary accomplishments. It also honors someone who has diligently worked to make North America a more supportive and enabling environment for contemporary literature.
"To be awarded the 2021 George Garrett Award is deeply moving," Hedge Coke said during her acceptance speech. "I feel fortunate to have come from parents that instilled service as a given."
A poet, scholar, and community activist, Hedge Coke said she is inspired by her parents who worked in physiotherapy providing pain relief and helping patients regain mobility during the height of the polio epidemic, not long after suffering their own trauma during World War II. She describes them as both coming from fields and horses, with one being visually impaired and the other deaf.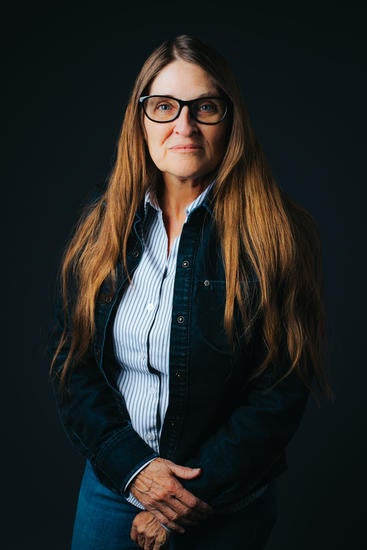 Hedge Coke became a field worker herself after leaving school at age 14. She returned when a disability prevented her from continuing manual labor. She earned an associate of fine arts degree in writing from the Institute of American Indian Arts and an MFA from Vermont College. Hedge Coke has mentored Native populations, at-risk youth, migrant workers, disabled writers, and has taught in juvenile justice facilities, domestic violence shelters, hospitals, and prisons.
"Coming from people who expected me to make things better for others rather than expect anyone to do things for us set into place the unfolding of my life to be one of service, for needs larger than my own," Hedge Coke said in her speech. "We share breath with every other organism we share the planet with, and so, even unseen, are united, and when we move toward the unity, toward making opportunity and change for others to move through challenges and pathways a bit easier, are the better for it. All of us."
The George Garrett Award includes a $2,000 honorarium, conference travel, accommodations, and registration. Hedge Coke was nominated for the award by Dr. Connie Voisine, a poet and professor at New Mexico State University. An award committee of three judges selected by AWP board of trustees and staff ranks and selects the recipient of the award each year. The deliberations of the judges are confidential.
Hedge Coke is a distinguished professor of creative writing and author of several poetry collections including "Dog Road Woman," "Off-Season City Pipe," "Blood Run," and "Streaming" as well as the memoir "Rock, Ghost, Willow, Deer: A Story of Survival." Her accolades include the American Book Award, PEN/Southwest Book Award, fellowships from the NEH in Poetry and the Lannan Foundation Residence, the First Jade Nurtured SiHui Female International Poetry Award, a Fulbright grant, and a Lifetime Achievement Award from the Native Writers' Circle of the Americas. She was inducted into the Texas Institute of Letters in 2021.
Hedge Coke was named the Dan and Maggie Inouye Distinguished Chair in Democratic Ideals for the spring 2020 semester at the University of Hawai'i at Mānoa and serves as director and principal investigator for the ongoing project "Along the Chaparral: Memorializing the Enshrined," as part of the Veterans Legacy Program implemented by the U.S. Department of Veterans Affairs. Hedge Coke also assumed the role of director of UCR's Writers Week, California's longest-running free literary festival, in fall 2020.
AWP provides support, advocacy, resources, and community to nearly 50,000 writers, 550 college and university creative writing programs, and 150 writers' conferences and centers. Its mission is to amplify the voices of writers and the academic programs and organizations that serve them while championing diversity and excellence in creative writing.