UC Riverside has begun testing students, staff, and faculty members for the coronavirus with the opening of a new diagnostic lab on campus this month.
The lab, located at the Multidisciplinary Research Building, or MRB, began operations in early September. The facility allows the campus to conduct its own independent testing at a faster rate and greater capacity than if it were to use an outside service, said Katherine Borkovich, a professor and chair of the Department of Microbiology and Plant Pathology, who helped lead efforts to create the lab.
UCR Health and the School of Medicine organized the first campus drive-thru testing for staff and faculty members on Sept. 9 and 10 with about 70 employees providing samples over the two days. A week earlier, the lab worked with Student Health Services to test 68 resident advisors who will be living on campus this fall. 
Both are part of the initial steps to begin an expanded and regular testing program that will allow the campus to avoid competing with other institutions for scarce testing supplies and resources, said Dr. Donald Larsen, CEO of UCR Health.
"We wanted to be sure we had the testing resources our campus needed to successfully reopen in a safe manner," Larsen said.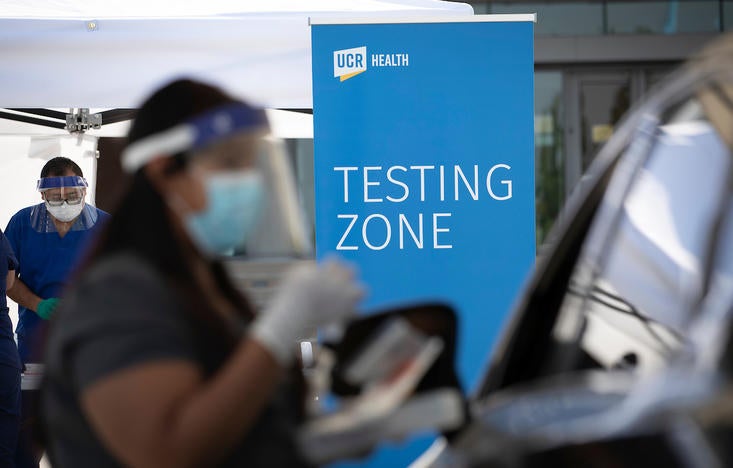 The drive-thru testing was held in the parking lot of the North Student Recreation Center with employees asked to make appointments in advance. Supervisors with employees working on campus were notified of the testing availability. Medical assistants at the entrance greeted each vehicle at the entrance, checked the names on the appointment list, and sent them to one of five canopy tents.
A different medical assistant then walked up to each vehicle, handing the employee a sheet of information on the test and a pipette to deposit a small sample of saliva. The pipette was placed in a sealed plastic bag and returned to the assistant who labeled it with the patient's information.
The whole process was designed to take about 10 minutes to complete, said Dr. Andres Gonzalez, chief medical officer for UCR Health, who coordinated the sample collection efforts with Larsen.
Isgouhi Kaloshian, a professor and chair of the Department of Nematology who worked with Borkovich to create the lab, said they have continued to refine the testing process to increase efficiency.
Initially, lab staff used nasal swabs to collect samples but then switched to saliva tests. That has allowed them to increase their speed and testing capacity from 200 to 600 a day with the potential to increase it even more, Borkovich said. Both processes provide for results within 24 hours.
Saliva tests are also easier to administer, Gonzalez said, limiting contact with the patient in collecting a sample. He noted the medical assistants wore face shields, masks, and gloves but did not need full personal protective equipment for the drive-thru tests.
UCR Health will analyze the first results to refine the process as it expands testing opportunities in the future, Gonzalez said.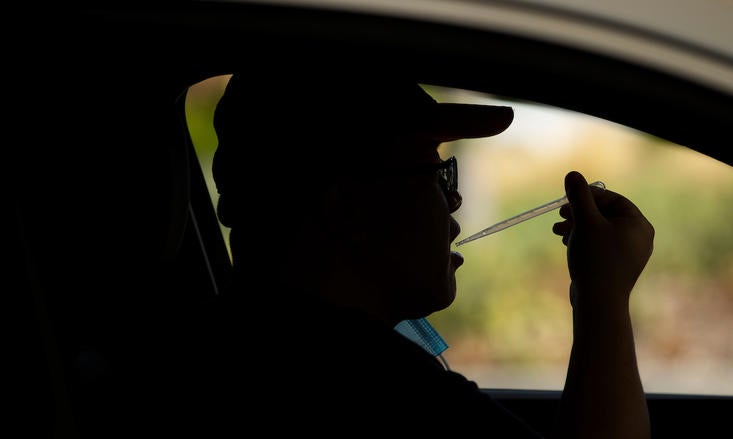 "We definitely want everyone to have the option of being tested when they need to and we also want to test individuals on a regular frequency," he said. "That way we can act on it on a timely basis."
Student Health Services, under the direction of Chief Medical Officer Dr. Kenneth Han, has had ongoing limited testing at its clinic since March, but the recent testing of resident advisors at its clinic was the first time the campus lab was used, said William Rall, senior administrative director for the office.
"We've seen an immediate difference," he said. "It's about a fraction of the time."
The process is less expensive and quicker, with results in 24 hours versus the weeklong wait with the outside lab, Rall said. 
The office is putting together a plan for testing all students living on campus and those attending in-person classes. Those living in campus residence halls will be required to be tested before they move in and continue to be tested up to twice a week throughout the fall quarter. 
Student Health Services plans to set up pop-up sample collection sites at or near the residence halls where students can check-in with a barcode on their smartphones, Rall said. Students will also be required to fill out a daily wellness check. Anyone experiencing symptoms will be asked not to come to the pop-up testing sites but will be tested separately.
For both employees and students, the campus has created a notification process to provide quick results, Larsen said. Those testing negative will be notified by email or text shortly after the results are available. Any positive results will be delivered via phone.
Larsen compared their goal to the process being used by athletics organizations such as the National Basketball Association where players are tested regularly and stay in a confined "bubble."
"We need to sample very frequently our employees and our students as well as control the environment they're living and working in," he said.