For decades, UC Riverside-grown citrus has inspired a variety of products around the world. Now it can be found in signature beers sold only on campus.
As many as five signature varieties including a lemon lager, mandarin ale, and grapefruit IPA, are on tap at the Barn's Patio Bar, which reopened this summer after an expansion. The brews are the result of a collaboration between Ironfire Brewing Company in Temecula, UCR Dining Services, and the Givaudan Citrus Variety Collection at UC Riverside.
In recent years, marmalades, chocolates, and soaps have been made with citrus grown at the collection and sold through the Citrus Gifts line. Creating beer from those same citrus products has been a longtime dream, said Tracy Kahn, the citrus collection's curator.
"The goal was to make beers that had some connection to UCR," she said.
Dining Services used the Barn renovation as an opportunity to expand its offerings and approached Ironfire to produce beers made from campus citrus. John Maino, president of Ironfire, said he and his business partner Gregory Webb, who opened the brewery eight years ago, honed their craft developing unusual, "off-the-wall" beers.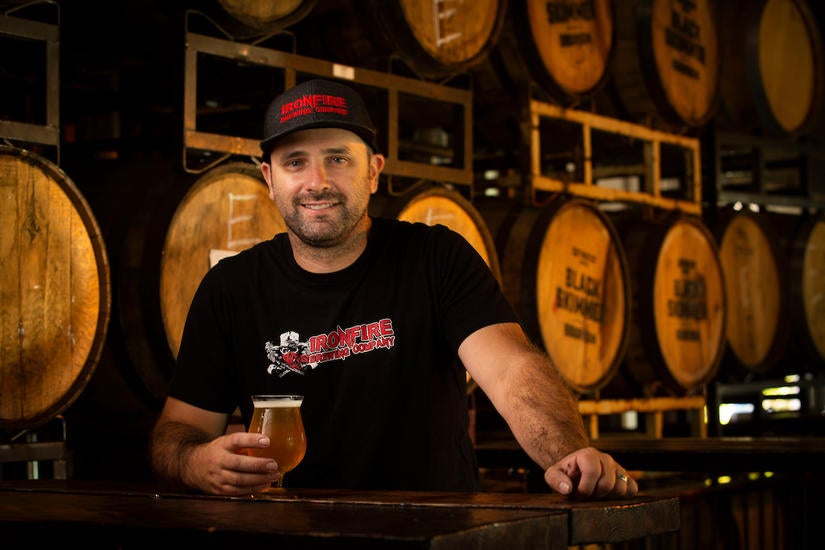 Two years ago, they started making fruited beers with grapefruit, blood oranges, berries, and mango. So when they were approached by UCR it seemed a good fit, Maino said.
Each variety is made in small batches, inspired by a fruit-picking trip to the Citrus Variety Collection. Maino, Kahn, and Ben Eisenstein, strategic marketing and communications manager for Housing, Dining & Hospitality Services, typically explore the 22-acre grove every few weeks and pick bags of fruit.
"We figure out what's ripe and what tastes good, and we keep in the back of our minds what beer it will go well with," Maino said.
The fruit is washed on campus and transported to the Temecula brewery where it's juiced, blended with the beer, and allowed to sit for a few days before transferred from mixing tanks to kegs. The whole process — from fruit picking to tap — takes six days.
The UCR-bred Gold Nugget mandarin, tango mandarin, frost marsh grapefruit, and pomelo are among the fruits utilized.
"When we use the tangos or the Gold Nugget it's very fruit forward," said Maino, noting the fruit from the collection stands out for its variety and freshness. "It tastes more like you're drinking an alcoholic juice."
He described the lemon lager as having a light, crisp, refreshing flavor while the pomelo creates a nice sour quality.
"Every batch we get is unique, so they're never the same," Maino said.
The UCR beers have proven popular at the Barn, often selling out quickly, Eisenstein said. 
For now, Ironfire is producing a few kegs at a time. Maino said he hopes that as demand grows they can produce larger batches and eventually sell them in cans.
"It's an only-at-UCR beer," he said.