When UC Riverside began discussing the creation of a COVID-19 testing program a year ago, the campus had no lab, no existing system, and no certainty about when students and employees could return safely.
Several months after the launch of the program, the campus is planning a fall return and is celebrating a continued drop in positive coronavirus cases since January.
Campus leaders involved in COVID-19 prevention efforts credit the low positivity rate to proactive efforts such as the creation of a homegrown diagnostic lab, regular testing of students, and continuous messaging about the importance of social distancing and wearing face coverings.
From September through mid-April, the campus conducted nearly 29,000 tests on campus with a positivity rate of 0.41%. Since February, the number of positive cases each week has been in the single digits with zero cases many weeks. 
During the same period, vaccination rates have risen. Since January, UCR Health administered nearly 5,000 shots at its on-campus clinic, many to employees.
"What's nice is seeing all of the negative test results," said Katherine Borkovich, professor and chair of the Department of Microbiology and Plant Pathology, who oversees the on-campus COVID-19 diagnostic lab. "We're coming out of this crisis, and UCR did well in terms of our positivity rate."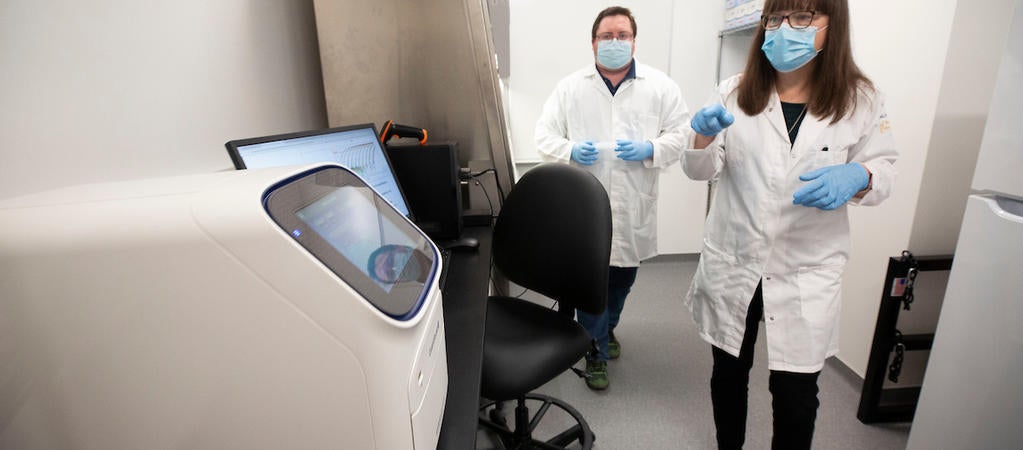 Borkovich and her colleagues from the College of Natural and Agricultural Sciences assembled the lab from scratch, borrowing some equipment from colleagues and creating their own testing kits.
Operating out of two rooms in the Multidisciplinary Research Building, the lab processed up to 500 samples a day from students living in residence halls and some employees continuing to work on campus.
All students living in campus housing were required to get tested before they moved in and have been tested twice a week throughout the academic year.
The campus saw its peak in the number of positive cases in December — as cases spiked locally and nationally — with 129 reported among students, employees, and contractors. Students who had gone home for holidays were required to be tested once they returned.
"During the fall quarter, we were humming along; we were super efficient," Borkovich said of the lab's operations during a challenging time.
From the start, the campus adopted the motto of "We're all in this together" in its messaging to students, said Denise Woods, assistant vice chancellor for Health, Counseling & Wellness. 
It was a sentiment reinforced by employees in Residential Life, Housing & Dining, Student Health Services, and others who interacted with students. The message was also amplified in university videos, social media, emails, and other official channels.
"They're very smart; they can handle information, and they want information," Woods said about UCR students. "For us, the focus is almost to overcommunicate because there's so much noise from the outside about vaccines or testing."
An animated COVID-19 educational video created as a module was viewed by more than 20,000 students.
Residence halls only housed one student per room and students were assigned to "pods," interacting with a small cohort to minimize COVID-19 exposure. Virtual and socially distanced activities continued to offer students a way to connect.
"It was really a combined effort where students did feel like they were in a cocoon, in a bubble," Woods said. "I think that's the biggest accomplishment, creating this bubble for students to be on campus and to still have experienced college life during a pandemic."
The campus took an educational approach, rather than a punitive one, when students failed to follow the rules. Most understood and complied with the requirements, Woods said. Students who tested positive or failed to get tested before returning to campus were housed in temporary quarantine facilities where food and other services were delivered to them.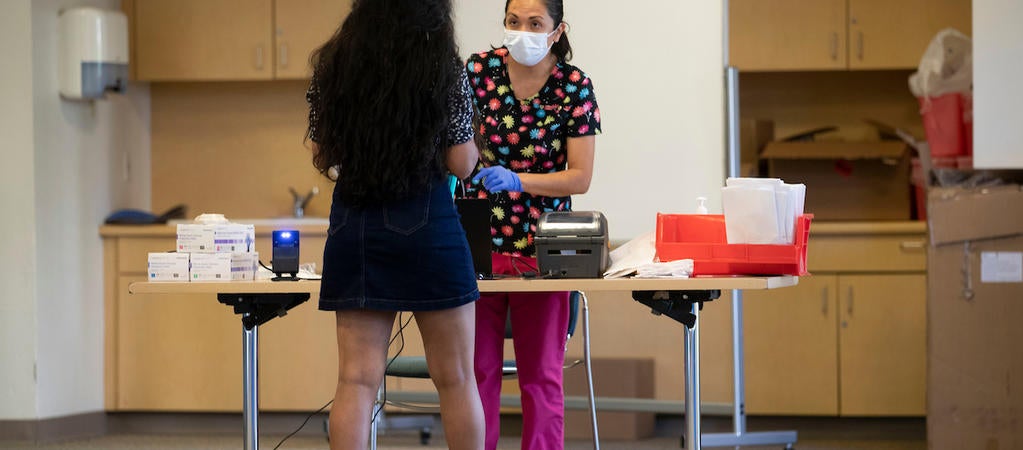 A key to the success of the program was the ease of the coronavirus test, which students could complete in three to five minutes, said William Rall, senior administrative director of Student Health Services, which oversaw the testing and collecting of student samples.
The lab switched early in the process from using nasal to saliva swabs and found that with frequent testing, a less-sensitive test that skipped RNA extraction still allowed early detection of infections. Omitting RNA extraction allowed the lab to increase its speed and capacity.
"That was kind of a big leap we made in August," Borkovich said.
 Students were placed in testing groups with assigned days to submit their samples at the Bear Cave in Pentland Hills. With a quick scan of their smartphones students could check in, spit into a vial, and create a label that tracked their sample with results typically delivered within 24 hours.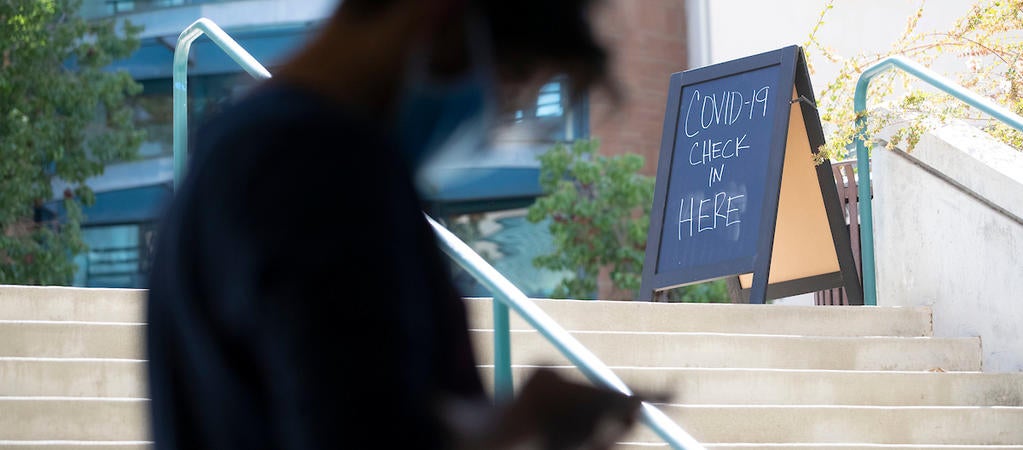 Rall said the successful effort was the result of many campus departments and groups coming together to create and run the program.
"This is a microcosm of what UCR can be," Rall said. "We have people linked together and aligned with the same mission just having synergy."
Borkovich said the experience allowed her to work with campus departments she'd never interacted with before. Early on, when colleagues around campus were asked for equipment to use in the lab, many stepped up and provided what was needed, with some junior faculty members offering brand new equipment.
"We really appreciated that can-do, help-out attitude on campus," Borkovich said.
Borkovich noted that she and Isgouhi Kaloshian, professor and chair of the Department of Nematology who helped create the lab, are not virologists. However, she found their experience as microbiologists proved relevant in devising a technique for COVID-19 testing.
"Your training as a scientist can make you broadly relevant to a lot of different fields you may not realize," she said. "In our case, we were called upon to help in this endeavor, and we stepped up."
Rong Hai and Juliet Morrison, assistant professors and virologists in the Department of Microbiology and Plant Pathology, provided their expertise in human RNA viruses in setting up the lab. Matthew Collin, manager of the Institute for Integrative Genomic Biology Genomics Core and project scientist for the Dynamic Genome, helped with instrumentation.
The campus plans to keep the lab operating through the end of fall quarter and will evaluate its future at that point, Borkovich said.