UC Riverside will see a major increase in construction activity in the coming months with several significant projects nearing completion or beginning soon.
Those include a new School of Business building, which held its groundbreaking on April 27, and completion of a new School of Medicine building that will open this fall. Preliminary plans are also underway for a large instructional building and the next phase of student housing at the North District.
Campus Architect Jacqueline Norman said the next burst of construction activity will be unlike any other in size and scope.
"They will make a major impact to the campus in expanding instructional classrooms and residential housing needs," she said.
Here's a look at some of the projects:
Undergraduate Teaching and Learning Facility
The planned new building is one of two major projects that hinge on state budget funding availability and may see its construction schedule accelerate as a result.
Following the completion of the Student Success Center two years ago, the new building continues campus plans to increase classroom space, which is still at a deficit of about 4,700 classroom seats, Norman said.
"This building will be all about instruction," she said.
The approximately 120,000-square-foot building with about 75,000 to 80,000 square-feet of assignable space will provide classroom, class laboratory, and studio space for undergraduate students to meet current and future enrollment needs.
The project is planned for Parking Lot 19, south of the UCR Soccer Stadium. The building will be mainly used for freshman and sophomore undergraduate instruction.
In last year's state budget, $154 million was approved for UCR's capital improvement needs with the funding to come in three increments. The first $51.5 million has already been allocated and if the second increment is included in this year's state budget, UCR will move forward with the project, Norman said.
At its March board meeting, the Regents of the University of California approved $6.8 million that will allow UCR to begin preliminary planning and be ready to move forward with the project early next year if the full state funding becomes available. If that happens, the project could be completed by summer 2026.
At that same meeting, the Regents also approved $7.2 million for preliminary planning for the next phase of the student housing development at the north end of campus. The first phase opened in fall 2021, featuring 1,500 beds in two apartment-style buildings along with shared amenities such as student lounges and a fitness center.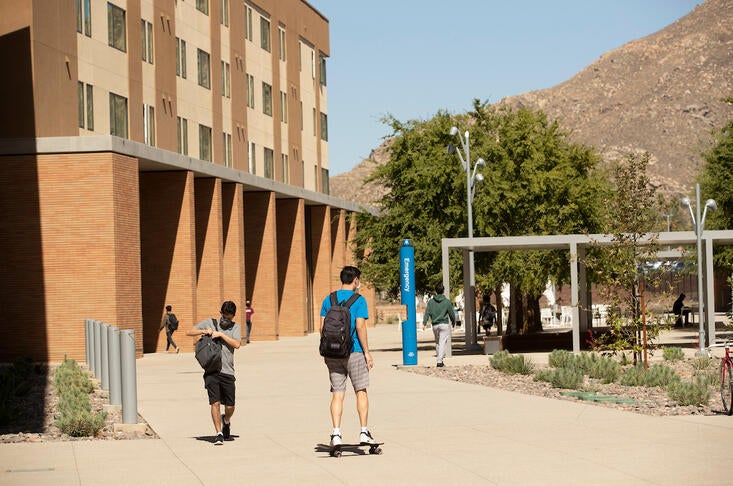 The next phase will be just west of the existing complex with an additional 1,500 beds in apartment-style buildings on 7.1 acres at the northeast corner of Canyon Crest Drive and W. Linden Street.
The campus has applied for funding from the State Higher Education Student Housing Grant program, with a decision expected this summer, and could return to the Regents for full budget approval this fall.
If funding is approved, the campus will move quickly on the project with construction starting as early this fall and completion estimated by fall 2025.
The project responds to continued demand for on-campus housing as students face increased challenges finding affordable housing in the region. 
With its frontage on Canyon Crest Drive, the complex will include community amenities such as retail space, links to public transit, and student facilities such as seminar rooms.
The Opportunities to Advance Sustainability, Innovation, and Social Inclusion, or OASIS, park will leverage UCR's research efforts in air quality, climate change, energy, transportation and other areas to support research and economic development for new technologies in a new facility.
The 50,000-square-foot facility would include research, classroom, office space, and incubator space for local startups. It would include room for the Center for Environmental Research and Technology, or CE-CERT, and University Extension.
The existing University Extension building on University Avenue will be demolished this year with the new facility expected to begin construction early next year. OASIS is expected to be completed by 2026.
A groundbreaking ceremony marked the beginning of construction for a new four-story 63,400-square-foot building that will provide more instructional and administrative space to meet growing enrollment demand at the School of Business.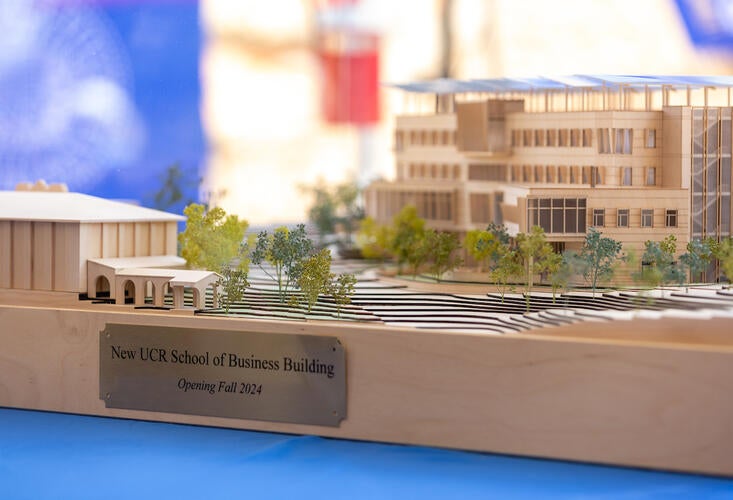 The new building, with 38,500-square-feet of assignable space, is being built at Parking Lot 8, just south of Anderson Hall, and will include modern classrooms, a large auditorium, a computer lab, and other instructional areas. 
It's expected to be completed in fall 2024 and will be part of the school's plans to grow through new faculty and staff and increased enrollment.
Student Health and Counseling Center
The new two-story building, which began construction in February 2022, is in its final stages of construction with an expected summer completion date.
The new building will bring together medical, mental health, and wellbeing services in one convenient location and modern facility on the western portion of Parking Lot 21, south of Linden Street.
The 39,450-square-foot building with 27,900 square feet of assignable space provides increased space for Student Health Services, The Well, and Counseling and Psychological Services, all of which are now located in separate buildings.
Campus leaders say having all those services in one facility will allow for a more integrated and holistic approach to health, counseling, and wellbeing.
School of Medicine Education Building II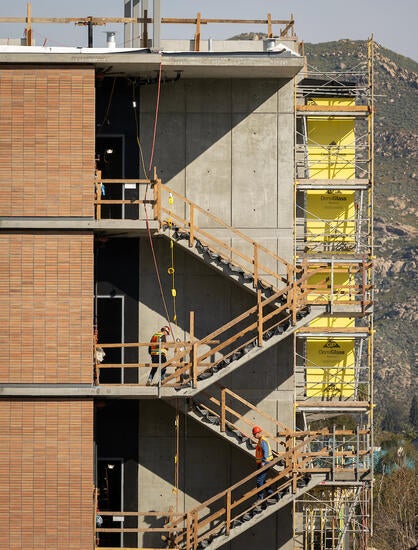 The new five-level School of Medicine building, which began construction in fall 2021, is getting ready for a summer completion and September ribbon-cutting ceremony as the school celebrates its 10th anniversary.
With about 57,000 assignable square feet within 90,000 gross square feet, the building is the School of Medicine's largest expansion since it opened in 2013 and will allow the school to increase the number of students trained and help meet the region's demand for physicians. 
The project is the first building designed specifically for the school's needs and features state-of-the-art learning facilities that support modern medical education. It includes lecture halls, classrooms, problem-based learning rooms, meeting rooms for student functions, study space, offices, and other support space.
Built in 1965, the aging Batchelor Hall, which houses mainly laboratory and research space, is getting a major upgrade with a renovation project that began in December 2021.
The project replaces old and outdated mechanical, electrical, and plumbing systems, and installs new fire sprinklers and LED lighting to the hallways. A new roof is also being added as part of the project.
In order to minimize disturbance to researchers and moving expensive research equipment, construction is being completed in four phases over about two years and expected to be completed by winter 2024.
Planting is underway for a Native American Garden in a 20,000-square-foot area in the upper mall outside the Highland Union Building, or HUB, and next to the recently renovated Pierce Hall.
The garden will include a circular gathering area that can be used for performances, distinctive planting areas, a shade structure, benches, and Indigenous art.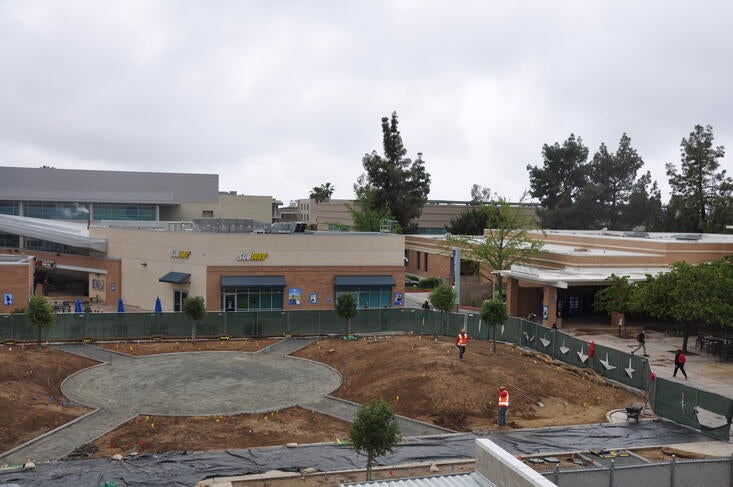 Planners envision the project as a gathering space that pays respect to the region's original inhabitants by utilizing a variety of trees, plants, and vegetation native to the region and its tribes.
The area has been fenced off since January as crews began initial grading and landscaping with planting beginning recently and continuing in the coming months. The project is expected to be completed in summer.
Renovations
Both Planning, Design and Construction and Facilities also have several smaller renovation projects planned or underway.
They include:
•    roofing projects in buildings across campus
•    mechanical infrastructure and Steam Plant distribution system and energy efficiency 
•    mechanical/electrical/plumbing upgrades 
•    campus primary power and electrical infrastructure improvements
•    greenhouse upgrades 
•    west campus irrigation infrastructure 
•    automated doors for building access 
•    elevators in several buildings 
•    repair and preservation of historic tiles in the Museum of Photography 
For more information on the projects visit the Planning, Design and Construction website.