UC Riverside has once again taken a top honor at the city of Riverside's annual beautification awards in January.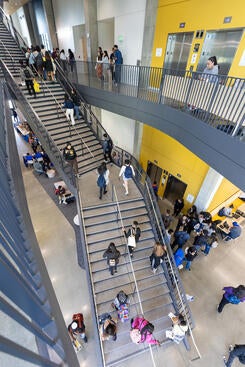 The Student Success Center won first place in the Maintenance of Existing Facility and Landscaping category in the Keep Riverside Clean and Beautiful Awards. The honorees were announced Jan. 27 at Mayor Patricia Lock Dawson's State of the City address.
The program, now in its 36th year, is sponsored by the Greater Riverside Chambers of Commerce and the City of Riverside's public works department. It looks at criteria such as architectural design, general maintenance, and landscaping in recognizing significant buildings and projects.
The Student Success Center has become a busy hub of student activity since opening in fall 2021. The three-story, 62,000-square-foot building includes a mix of classrooms, small- to large-sized lecture halls, multipurpose rooms, student study areas, meeting rooms, and a student lounge. Students enter the building into an airy, daylit atrium called the Paseo. It also features the campus' first in-the-round lecture hall, which seats 400. 
In November, the Design Build Institute of America recognized the new campus building with an award for excellence in its national awards' educational facilities category.
In recent years, Keep Riverside Clean and Beautiful has honored multiple UCR projects including Plant Research 1, Glen Mor 2 Student Housing, the Dundee Residence Hall and Glasgow Residential Restaurant, the Barn, R'Garden, and the Multidisciplinary Research Building.